Note: There may be minor plot or thematic spoilers in the review below.
[gn_quote]He took another glance at the deepening shadows. It did look creepy back there. But—who knew? A small twinge of excitement and danger tugged at the edges of his mind. He'd have to find out more about the ravine and what lay back in the shadowed hills.[/gn_quote]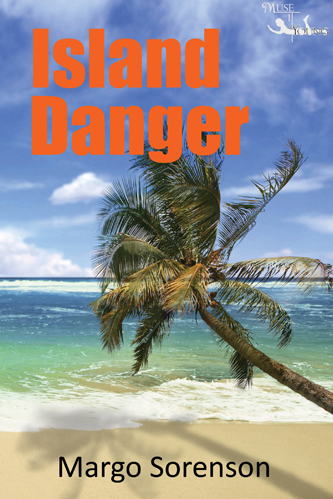 An overactive imagination influenced by "too many action-blow-em-up movies" and an over-eagerness for adventure are just a few of the personality quirks of Todd, the 14-year old protagonist in Island Danger (MuseItUp Publishing, 2012), Margo Sorenson's latest tween adventure novel. Todd is a soccer star at home who is forced by his busy parents to spend the summer with his aunt, uncle and kooky cousins in Hawaiʻi. Obsessed with showing everyone around him how "grown-up" he is, Todd eagerly jumps at the chance to wade into a dangerous situation when he overhears that an extreme faction of Hawaiian sovereignty activists might have a hidden cache of military-grade weapons in the ravine near his uncle's house. To make matters worse, there may even be pakalolo growers in the same area, causing violent trouble for any trespassers. Despite the obvious risk, Todd becomes fixated on becoming the hero to find evidence of these crimes, and won't let anyone—not his intolerant uncle, his dweeby cousin, or the local bully Kekoa—from getting in his way.
When I first started reading Island Danger, I was immediately taken aback by the perceptions of Hawaiians shared by Todd's parents (who lived on the continental U.S.), and even Todd's family in Hawaiʻi. Their comments read like a really poor mainland stereotype of sovereignty activists and local people: ungrateful and violent separatists, lazy crime-committing homeless, and drug-growing fiends.
In my estimation, the majority of these notions shared by the family seem to be influenced by the very vocal and thinly-bigoted opinion of Todd's Uncle Tom, a Lieutenant Colonel in the United States Marines. Have some heart, however, as the story does eventually cast a mostly negative light on Tom's strong beliefs.  Todd's discoveries and experiences with positive locals like Melia and Kawika ultimately put to rest a few of the undeserving character portraits that his Uncle's suggestions had on his thought process.
For a tween novel, the book is pretty simple and straightforward—the reader follows Todd in both his actions and thoughts. The plot is interesting enough with the mystery of what's going on in the ravine that you eventually want to read on to see what Todd will discover when he's finally able to explore its depths. Sorenson does a decent job of incorporating local customs and language into the book for a general audience, though a few of the Pidgin exchanges came off a bit forced. I did crack up, however, when some of the hooting from Kekoa's local boys to Todd and his soccer team included the exchange, "Oh, da cute!"  Sorenson does a good job of taking a somewhat unlikable main character at the book's beginning and through his experiences, show growth and a change to his initial prejudices of people and situations. There are also good lessons in the story on the importance of teamwork and not being judgmental of people based on looks or preliminary perceptions.
All in all, for the price of the book and the adventure/danger plot, I could see this being a quick and exciting read for tween age boys, so long as they understand that Uncle Tom's perceptions of local people are more or less the wrong ones and that they seriously should not go out and seek to stop dangerous criminal behavior—whether real or imagined.
About the Author
Margo Sorenson has authored over 27 books including the keiki book Aloha for Carol Ann. Her next tween novel, Time of Honor, will be released later this year. She's always happy to sign any of her books including signed bookplates, just contact her. Check out her website, margosorenson.com, for more information about her and her work. You can also follow her on Twitter at @ipapaverison.