Okay…so a little under a year ago I got my very own first iPod–a second generation 32MB iPod Touch.  I ended up loving this thing, because of the intuitive touch screen and awesome collection of applications.  In fact, one of the first things that I got into were eBooks.  It seemed like the greatest invention in the world to be able to read all of these free classic books from the ease of my iPod.  I literally had a library of books in my pocket…to be perused when waiting somewhere, lying in bed, or any place I had a modicum of free time.  The best part was that it was highly intuitive and customizable…it wasn't like reading a static PDF file on a computer screen.  I could flip through pages with my fingers, skip chapters ahead in a matter of seconds, and with the better readers: leave custom bookmarks and/or highlight interesting passages.  It was awesome!
If you are interested in reading eBooks on your iPhone, there are a ton of apps to get you started.  One of my favorites is Stanza, which gives you access to over thirteen eBook stores and databases, providing you with hundreds of titles, many of which are free to download.  The best part is, all the titles are organized in the Stanza app so your iPhone/iPod Touch menu isn't cluttered with tons of stand-alone eBook titles.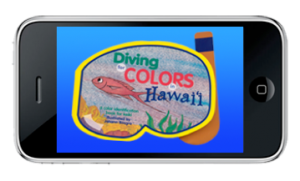 In the last two weeks, two local literary-related applications turned up in the iTunes store.  BeachHouse Publishing, which serves as an imprint of Mutual Publishing for Hawaiian keiki books, recently announced that they're the first local publisher to enter the iPhone/iPod Touch application game.  Their first offering is their book, Diving for Colors in Hawai'i, a boardbook that teaches children color identification.  Transformed into an iPhone application, the pages of this book will come to life for your keiki.  Each page of the book (nine total) acts like the foreground creatures and set pieces were cut out and put to motion.  You'll see bubbles rise, sea plants sway and fish swim across the screen in very simple but effective animation.  The best part about this book is that it's read out loud in both English and Hawaiian with an option to mix and match between the spoken and written word of each language.  So, for kids who may know their colors already, it still provides a useful tool to learn the colors in Hawaiian!  I know I'm trying my best…

  As a bonus, at the end of the book is an informative page displaying all the featured sea creatures along with a pronunciation of their English or Hawaiian name depending on which language you selected.
The application itself is $1.99 at the iTunes store and worth it for the Hawaiian reading.  Visit their iBeachHouse page for more information.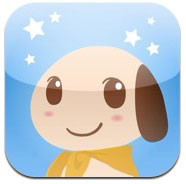 Following on the heels of the iBeachHouse application was a fun surprise…the announcement that the folks behind nemu*nemu had released their first iPhone/iPod Touch application!  The first thing that really blew me away is that the application is free, so there's no excuse to NOT download it.  They were able to do this as the application has a small bar of advertising on the bottom of the screen.  The application itself, as far as I can see, is a very organized way to navigate the contents of nemu*nemu.com, with one touch access to the current comics, archive, blog, gallery and more (which includes shortcuts to podcasts, youtube videos, twitter, facebook, etc.).  For the nemu*nemu fan, it's a must have app to get your nemu fix while on the go.  The only downside I could find is that  it is more or less unusable for iPod Touch users without a wi-fi/internet connection as none of the images are cached.  Aside from that, there are really only three letters to describe it… OMP*!
For more information on downloading the nemu*nemu app, visit the official web announcement on nemu-nemu.com which also includes a handy youtube video showing you the finer points of the application.
For me, nothing will ever compare to holding a physical book in your hands and reading it.  However, the technology that is out there can only help to interest more readers and aid those who might otherwise not have the time or more importantly the space to carry many books with them.  Support your local publishers by considering a purchase of the BeachHouse application.  It's great for kids, especially with the way the book is narrated in both English and Hawaiian.  If this signals a trend for more literary-related applications from local writers and publishers, it can only be a good thing.  As for the nemu*nemu app, it *is* free to download.  You have no excuse not to try it out–and hey, you may just discover your new, favorite comic strip.
Photo credit: BeachHouse Publishing, nemu-nemu.com
*"Oh My Pizza!" a common used exclamation in nemu*nemu.