Well, the Hawaii State Public Library Summer Reading Programs officially ended July 2nd, but they still have a lot of great activities and events that you can attend. Check out our calendar or visit the HSPLS website for more info on how you can get involved.
The declining page count continued as we wallowed in a deep, dark abyss of un-motivation. We mostly finished up whatever was left in the books we started last week. The good news is, we both finished at least two Hawaiiana books a piece during the challenge, so we get to review those in the near future. Monkey led the way this week with 197 pages read and a grand total of 1125 pages! Robot only read 130 pages this week with a grand total of 1148 pages!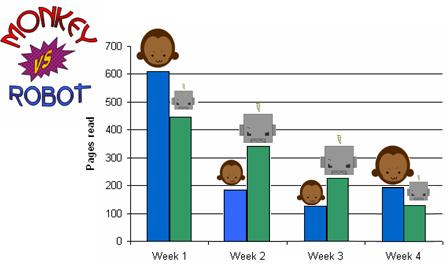 WOW! That was close, although technically I suppose we could say it was a tie, since Alex managed to read 6 books and I only read 5. Not bad, but we think that's pretty paltry compared to some of the awesome book bloggers on the net who are reading nearly as many books in just one week! Book lovers often say things like "so many books, so little time" and I have to admit, I have never felt it more forcefully than I do now with HBB.
There's so much to do and read, learn and experience, that I can't conceive of having time for it all and am sometimes overwhelmed before I even begin. Productivity is something Alex and I both struggle with since we both LOVE to sleep and often get sucked into little things like making cute animals on Word-Art (maybe that's just me).
Even though it has nothing to do with local books, aside from helping you find time to read more of them, the genius blogger at Zen Habits has put together this awesome list of the Top 50 Productivity Blogs. Some of them are quite interesting and helpful for those of us who are time management challenged.
But enough of that! Alex lost the challenge, I am the 2010 HBB Summer reading Champ… any suggestions on where he should have to take me for dinner?  Some place posh and expensive since he's paying