Friday night, Alex and I went to the kick off of the Clarence T.C. Ching Foundation's "Inspired in Hawaii" series.  Along with several corporate sponsors and participation from Sacred Hearts Academy and Saint Louis High School, the "Inspired in Hawaii" essay/poster contest and speaker series brings together a host of professionals for a weekend long event at Barnes & Noble Ala Moana.  The "Inspired in Hawaii" Contest encourages kids to "dream big and make Hawaii a better place" with guest speakers like Chef Alan Wong, Benny Agbayani, Wally Amos and Henry Kapono.
Ex-Governors George Ariyoshi and Ben Cayetano were present for the starting event answering questions and tackling the topic of Hawaii's future and the obstacles for our next governor.  It was interesting to hear about politics and Hawaii from both of their perspectives and what they feel is important to remember for future generations.  Talking points ranged from the Akaka Bill to furloughs and growing up in Hawaii.  Most inspiring was Governor Cayetano's closing advice to "get a good education, develop critical thinking… read history and philosophy…[and] become a citizen of the world instead of just a citizen of Hawai'i."
Earlier in the program, when speaking about how to improve education in public schools, Cayetano said he feels it is important for kids in Hawai'i to know history, especially the history of our islands because "if you don't know where you came from, where you've been, then you won't know where you're going".  Along with a year round schedule, he says the following books should be made required reading in high school: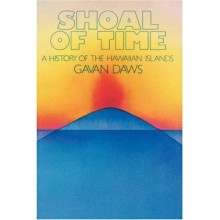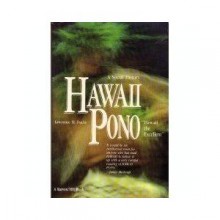 Shoal of Time by Gavan Daws (UH Press, paperback 1989)
Hawaii Pono: An Ethnic and Political History by Lawrence Fuchs (Bess Press, 1997)
Hawaii Pono: A Social History by Lawrence Fuchs (Harcourt, 1984)
Sadly, I fail.  I've only read about half of Shoal of Time, and skimmed through the Ethnic & Political History volume of Hawaii Pono… but I have read many other books on history in Hawaii, so maybe that would count for something. :/
The "Inspired in Hawaii" event is still going on today (Sunday 8/22). You can see a copy of the program here via Watermark Publishing's Facebook page or visit Saint Louis School website to download a copy.  If you're interested in more of what these two ex-Governors have to say, check out their books from Watermark Publishing:  Ben: A Memoir, From Street Kid to Governor by Ben Cayetano and Hawaii: The Past Fifty Years, the Next Fifty Years by George R. Ariyoshi.