How often do you think (or hear other people say), "I wish I could be more creative?"
I am always amazed at how creative people can be. Like my grandfather who once fixed a washing machine with a milk cap. Like local author Lisa Linn Kanae with her hilarious and brilliant use of simile, or Lee Cataluna and how she can make the most mundane things seem spectacularly funny and important. I wish I could be more creative, like them.
Wishes are tricky things. They really do come true, but never in the way you think.  The whole rationale behind wishing is to achieve or acquire something instantly. But that's not how wishes really come true because what they really need is work. Blood, sweat, tears… and maybe your first born child. Want to be more creative? Well Neil Tepper gives you the tools to help yourself, all it takes is a little work and a change in perspective.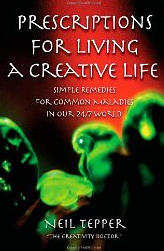 In Prescriptions for Living a Creative Life–Simple Remedies for Common Maladies in our 24/7  World , Tepper identifies seven maladies in our everyday lives that hold us back from our true creative potential and offers up a few daily or weekly exercises to help you balance your working life with your creative life. I know I can relate to most of these "maladies" that bog us down. Many of them are unintentionally self-inflicted like "mental cholesterol"—those negative thoughts and doubts we have that we use to hold us back. Or how we overbook ourselves thinking we'll only achieve our goals by doing MORE, working MORE. A great portion of the book is focused on changing your perception and allowing yourself to have fun, to take quiet time, to shut off your phones and computers.
One thing I found most helpful was the section where he writes about recognizing those simple instances in life when you have creative ideas. One of the exercises is to make note of those instances, how you feel, what you are doing and who you are with. I noticed that so many of my creative ideas come about when I'm just sitting around talking and joking around with Alex. Who woulda thought!? (sings Chicago's 'You're the Inspiration').
I really enjoyed reading the book and exploring the exercises, especially the one about paying more attention to your five senses and using them as creative inspiration.  Overall, Prescriptions for Living a Creative Life is a handy book to have around when you're looking for little ways to increase your creative opportunities.  The ongoing "illness" theme was a bit much for me and I hoped a book on inspiring people to be creative would have had a more imaginative cover rather than a generic "print-on demand" one.  But the back cover is a picture of a sandy beach with perfect, turquois water and the feet of a man obviously enjoying living life creatively.
Neil Tepper was a creative executive before moving to Hawaii. He's now an inspirational speaker who's worked with local companies and celebrities like Emme Tomimbang. He's a photographer, songwriter and recent International Toastmaster speech contest representative for Hawaii. Check out his blog  "Across the Waves" on creative living and the book's website here. Tepper also has several articles written across the Internet on ways to access your creativity. Here's one, '10 Prescriptions for Living a Creative Life' that he wrote on beliefnet.com
* A copy of Prescriptions for Living a Creative Life–Simple Remedies for Common Maladies in our 24/7  World (ISBN: 1-4392-4082-5) was provided to HBB by the publisher in exchange for an honest review.
BTW– Lisa Linn Kanae & Lee cataluna = my heroes!