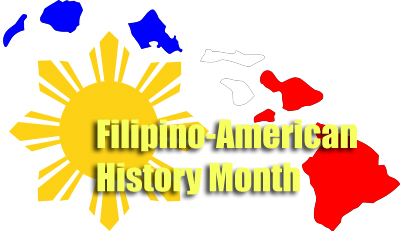 In 2008, the Hawaii State Legislature enacted into law that October will be designated Filipino-American History Month to annually commemorate the contributions of Filipino-Americans to Hawaiʻi and the United States.1  104 years ago in 1906, the first sakadas emigrated from the Philippines to Hawaiʻi to work on sugar plantations.  Since then, Filipinos have become one of the fastest growing ethnic groups here and have reached a number of achievements from Miss America to Governor.  There is even a Facebook page for Filipino-American History Month, providing you with updates around the country to the many different celebrations and events that are happening in October.
The Hawaiʻi State Library is celebrating Filipino-American History Month with a photo and art display, presented by the Filipino-American Historical Society of Hawaii from October 2nd to 23rd, 2010 in the Lobby.  This exhibit features political cartoons from Corky Trinidad (1939-2009) the pen name of Philippine-born cartoonist Francisco Flores Trinidad, Jr.  I'm sure you've seen Corky's famous, award-winning cartoons in the Honolulu Star-Bulletin.  Check out this article in the Hawaii-Filipino Chronicle for some extra info!
[gn_divider]
Of course, at Hawaiʻi Book Blog, the way we celebrate any notable event is through books!  Given the strong influence that the Filipino community has had on the local culture of our Islands, it is only natural that there would be an abundance of great literary works from Filipino-American writers.
One of our most notable and talented local writers is Michelle Cruz Skinner.  A teacher at Punahou School, Michelle has written three books of short stories detailing her experiences and observations as a Filipino-American.  Her first collection, Balikbayan (Bess Press, 2008 [2nd Edition]), was reviewed by me back in May 2009.  You can read my review here:  Book Review – Balikbayan: A Filipino Homecoming.  Since then she has published two more works, Mango Seasons and In the Company of Strangers which was recently released by Bamboo Ridge Press in 2009.
Only If You Can Find Me by Patricia Laurel (Mutual Publishing, 2006) is the story of nine-year-old Samantha Plum who crosses the Pacific to the Philippines and encounters a number of mystical beings along the way including a magical Hawaiian, her spirit ancestor, a vengeful duwende and even a tiger shark aumakua.  This book is based on the author's real-life autistic niece.  The Honolulu Advertiser called it "the first Filipino-American young-adult novel."3 I haven't read it yet but it sounds fascinating.
You can't mention successful Filipino-Americans in Hawaiʻi without bringing up former Governor Ben Cayetano.  Cayetano served two terms as the first Filipino-American governor in the United States from 1994 to 2002.  In 2009, Governor Cayetano wrote Ben: A Memoir, From Street Kid to Governor (Watermark Publishing) which received rave reviews and was the recipient of the Samuel M. Kamakau Award for the Hawaiʻi book of the year.
One recent release this year from Mutual Publishing provides another look into the culture of the Philippines…paranormal culture, that is!  Asian Supernatural:  Including Hawaii and the Pacific is a new book by Alex G. Paman that catalogs various creatures, places, beliefs and other related phenomena from all across Asia and the Pacific into a handy reference guide.  I am mentioning it here because the section on The Philippines is by far the largest of all countries, no doubt colored by stories from the author's upbringing.  You can read our review of the book here: [Book Review: Asian Supernatural].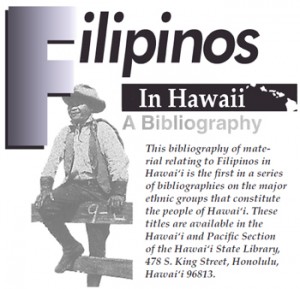 This is just a fraction of the books available in Hawaiʻi about Filipinos or from Filipino-American authors.  One of the greatest resources for not only books but catalogs of information is the Hawaiʻi State Public Library.  If you've ever been in one you may have noticed the plethora of bibliography and book list brochures available in the handout areas.  One of the best ones I've seen is all about Filipinos in Hawaiʻi.  Many of the books are older reference books but the great thing about them is you can get each and every one of them within the Hawaiʻi Public Library system.  Check em out if you want to learn more!  Just click on the image to the left [Filipinos in Hawaii: A Bibiliography].
If anybody has more recommendations whether it's a Filipino author or a book about Filipinos or their culture, or even if it's a story with a Filipino character, we'd love to hear about it.  Hope everyone enjoys the rest of Filipino-American History Month!
Mabuhay!