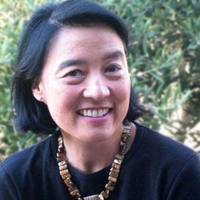 Gail Tsukiyama is the bestselling and award winning author of six novels including  Women of the Silk, The Samurai's Garden, The Language of Threads and her most recent The Street of a Thousand Blossoms. Born to a Chinese mother from Hong Kong and a Japanese father from Hawaii her novels are a reflection of her mixed heritage. She weaves her stories and creates her characters with a richness around the history and cultures of China and Japan. They are stories of love, gender, politics, family, adventure and heartbreak. Here is a collection of quotes from her work:
"It is not an act of bravery to try to save your own village. It is an instinct to protect what you possess. Bravery is when you step in to help when you have nothing to lose."
― The Samurai's Garden
"Don't ever think that just because you do things differently, you're wrong."
― Women of the Silk
"The eyes mirror the heart of a person. An entire life can be seen through them. Love, sorrow, deceit, pain. If you look closely, it's all there."
― The Language of Threads
"We can't run away from what defines our fates. Who we are and what we believe in grow from the roots of our past, no matter how much we might try to deny it."
― The Language of Threads
"Do you think a champion is made out of thin air? It's through the hardships you endure that you'll gain real strength."
― The Street of a Thousand Blossoms
Tomorrow we'll have a review of The Samurai's Garden and hopefully a quick author interview as well.
Gail is visiting Hawaii as part of the Celebrate Reading Festival. She will make appearances on Oahu, Maui and the Big Island. See our Celebrate Reading page for more details and information.
Please join us at her event this Thursday at 5:30 pm at the UH Manoa Art Auditorium. She will be reading some passages answering questions and signing books.