[gn_quote]The intermingling of [people, political shifts, religion, the socioeconomics of plantation life and its aftermath, and the recent acceleration of human travel] has inexorably led to a distinctive architectural tapestry found nowhere else in the United States.[/gn_quote]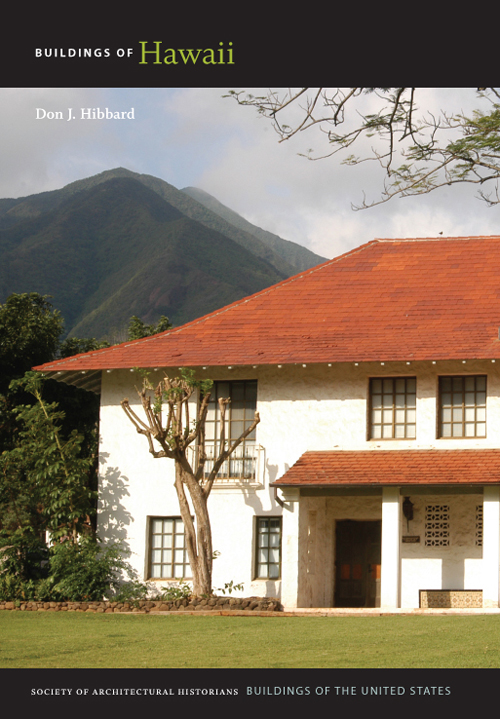 In Hawaiʻi, we often discuss the proliferation of various nationalities immigrating here during the plantation era and the way these cultures melded together to form our local language, customs, traditions, stories, philosophies, and most importantly, food.  Like food, one of the necessities we require as human beings, and one that has also been shaped by Hawaiʻi's unique history is shelter—or in this case, buildings.  In a new book by Don J. Hibbard, Buildings of Hawaii (University of Virginia Press, 2011) seeks to use our local structural designs to create an absorbing historical narrative of Hawaiʻi's history.
Buildings of Hawaii is divided into two major sections:  an introduction and main contents.
The 42 page intro begins with a condensed history of Hawaiʻi as told through its architectural development.  It begins with the settlements and structures of the Hawaiians, followed by the various influences as each group settled:  New England missionaries, plantation life and the influence of immigrants from abroad, up until changes affected by the rise of tourism. I really enjoyed this part of the book.  The general history of Hawaiʻi is known to most of us who live here, but seeing it unfold through the lens of building materials and architecture provided a refreshing take on this oft-repeated thread.
The meat of the book lies in the catalog of nearly 500 buildings across the six main Hawaiian islands (Niʻihau and Kahoʻolawe excepted).  These are divided up first by island, and then by neighborhood, providing the reader with a geographical reference point to discover these buildings on their own.  Each entry includes the year it was built, the name of the architect(s), address, and a one or two paragraph description of the building.  These descriptions are rich with historical significance, geographical implications, architectural styling, and past and current functions.  Some of our favorite libraries are listed in the book, such as the Aiea and Liliha public libraries, designed by the Frank Lloyd Wright inspired Stephen Oyakawa, the "quintessential 1950's Hawaiian-style" Waikīkī-Kapahulu Public Library, and of course the twice-renovated Carnegie Hawaii State Library.  A handy index in the back makes it easy to find a specific building if you can't find it by its neighborhood.
With 239 black and white illustrations along with 24 maps, Buildings of Hawaii provides many visual cues to some of the more interesting buildings in the state.  The maps are especially useful to pinpoint locations of where a majority of the featured buildings are located throughout the islands.  I could easily see somebody fascinated with architecture using this book as a tour guide to walk through downtown Honolulu and study the uniqueness of each structure with the help of Hibbard's educational descriptions.
Buildings of Hawaii is a meticulously researched book written by a true expert of the field, Don J. Hibbard.  Years of investigation and preparation by the author were required to complete this book and the wealth of knowledge and sophistication found within the pages truly show it.  Anyone interested in architecture, building, construction or Hawaiʻi's history will find something of interest in Hibbard's excellent reference.  As I mentioned earlier, this book could also serve as a fascinating tour guide through Hawaiʻi; be on the lookout for future posts where I use Buildings of Hawaii to explore some of our most striking and significant buildings.
Due to his work on Buildings of Hawaii, Don Hibbard recently won the Community Service – Historic Preservation award from the American Society of Interior Designers Hawaii Chapter.
Buildings of Hawaii
by Don J. Hibbard
University of Virginia Press, 2011
352 pages, cloth
$65.00
*Disclaimer: We received a complimentary copy of this book from the publisher in exchange for our honest review.
[gn_divider]
Event Info
Author Don J. Hibbard will be a guest at the Kakaako coffee shop, R&D (691 Auahi St.; Honolulu), on Wednesday, January 18 at 6:00 P.M.  Hibbard will be giving a special presentation and book signing for his book, Buildings of Hawaii.  For more information on this event, visit interislandterminal.org.