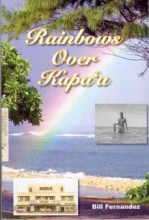 Native Books will be featuring local Kamehameha alum author, Bill Fernandez, with an author talk on Sunday, March 14 from 3 to 5 PM.  Bill's talk will start with an oli and include singing a little Don Ho.  After the presentation there will be a book signing.  Light refreshments will also be available.
Rainbows Over Kapa'a, a memoir/history of five generations of Bill's family in Kapa'a on Kaua'i is filled with small kid stories, a description of how the islands changed from monarchy to control by the sugar plantations plus the impact the labor immigration had on the island. It is filled with photographs, including some from the late 1800s of his Hawaiian family.  His description of hukilau is unforgettable.
The book  is in the state library system as both reference and history and the Kaua'i Schools are placing it on their Recommended Reading List.  Bill was featured in the recent issue of Kaua'i Traveler.  His website,  http://www.wfernandez.com, has further information.
The book is available for sale at Native Books, Borders, Barnes & Noble, U of Hawaii and Kaua'i Museum and Historical Society and in Kepler's Books in Menlo Park, CA.