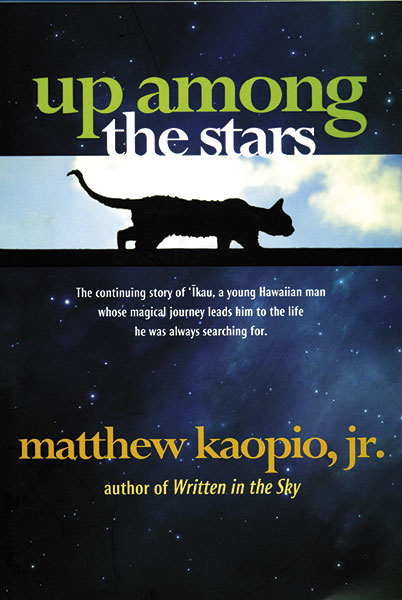 Up Among the Stars (Mutual Publishing, 2011) is the sequel to Matthew Kaopio's debut novel, Written in the Sky.  For more on his first novel, you can read my review here: [Book Review: Written in the Sky].
The book picks up from where we last left our homeless teenage protagonist. ʻĪkauikalani still lives in Ala Moana Beach Park with the park regulars he's befriended and the journal given to him by Hawaiian, the homeless man who taught him how to survive in the Park.  After certain events transpire, the City begins closing the park at night, leaving ʻĪkau to once again fend for himself within the urban landscape of Honolulu.  Meeting new friends and depending on old ones, ʻĪkau, ever the optimist, discovers that generosity will always pay itself back in full.
Up Among the Stars, much like its predecessor, is a measured blending of Pacific culture and Western beliefs with a sprinkling of Eastern wisdom.  Early on, much of the book is an insightful jaunt into various philosophies as ʻĪkau continues to learn life lessons from different teachers, both living and dead.
Although the book is a bit slow in the beginning, as we are reintroduced into ʻĪkau's world, the pacing picks up when he is forced from his home in the park.  ʻĪkau sets off on an urban adventure that sees him fleeing from a perverted meth-user as he tries to make it to the home of Gladness, the elderly Chinese lady whom he befriended in the first book.  In general, Up Among the Stars provides somewhat of a plebeian tour through the city, taking you from paddling at Ala Moana Beach, onto bus routes to Makiki, trudging through Aʻala Park and Tantalus, visiting Bishop Museum (on free day, naturally), and finally marching to ʻIolani Palace.
It's also a book of lessons, as you are transported into this modern, unglamorous Hawaiʻi through ʻĪkau's wide-eyed and eager optimism.  Through each person he meets ʻĪkau both gives of himself completely and receives much in the form of knowledge, material goods, friendship and a sense of family.  Most of all, the book teaches us not to abandon others, even when it's most convenient.  There is always someone out there, pushed to the unseen margins of society, who may need your assistance or quite simply your courtesy.
While not as focused or vibrant as Written in the Sky was, Up Among the Stars remains an excellent follow-up that continues the positive and inspirational lessons begun in the first book.  Matthew Kaopio's Hawaiʻi is both unique in its telling, yet familiar to those of us who live in the city.  It's a place where good intentions wrestle with bad situations, where Hawaiian culture blends with Eastern philosophy and Western science and religion, and where dreams and reality mingle together—the past leading the present towards a brighter future.
[gn_divider]
Up Among the Stars
by Matthew Kaopio
Mutual Publishing, 2011
176 pages, paperback
ISBN: 978-1566479493
*Disclaimer: We received a complimentary copy of this book from the publisher in exchange for our honest, unbiased review.