Due to the unique character of Kapa'a, a landless Hawaiian had become an established business man in the Kaua'i community.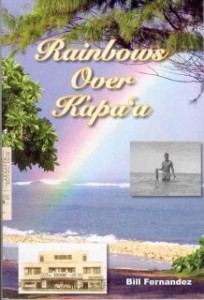 Hawaii is often seen as very different from other places in the world.  In turn, each island has its own diverse practices, people and history, and going even further, each district or town often view themselves as unique from everyone else.  Kona and Hilo, East and West Maui, and everywhere that isn't "town" on Oahu are just a few local contrasts that come to mind.  On Kauai there is a special town, according to Bill Fernandez's memoir Rainbows Over Kapa'a, that is specifically distinctive from the rest of the island.  This town was not created due to its proximity to sugar plantations, as the land that it was founded on was not prime sugar-cane growing soil.  It was a town formed by entrepreneurial migrant workers who completed their contracted labor and sought to become landowners.  This land was Kapa'a, a place Bill Fernandez calls a "multi-racial town where the password for success is aloha."  It is this enterprising idea of Kapa'a as a place of opportunity for the less fortunate that drives the main focus of the book.
According to Fernandez, the history of Kapa'a "is never mentioned in early histories as having a thriving Hawaiian village."  Not until Chinese laborers inhabited the island and sought the marshlands for the cultivation of rice, did Kapa'a begin to create an identity in the Hawaiian islands.  As a result, it was not a typical plantation town like so many others—it had a culture where people of many races lived together equally and owned businesses.  This theme is anchored by the lifespan of the lavish Roxy Theater, the pioneering vision of Bill's father, W.A. Fernandez.  The ups and downs of the theater along with the interwoven stories of Bill's family parallel the remarkable events that hit Kapa'a over the last century.
Fernandez recollects his memories eloquently, with a knowledgeable base and descriptive language.  There are times, however, I feel he over explains certain background history a little too much.  One notable example is when he mentions Jurassic Park filming on Kaua'i and how by that time the advances in film had finally surpassed the technology of the Roxy Theater.  He builds on this story by going into detail about Saurischian Dinosaurs and how the Sauropodomorpha have long necks and consume vegetation from trees while Therapoda are carnivorous.  While somewhat informative, extra commentary such as this often took me out of the story.  There are other instances where Fernandez's foundation-building creates a solid setting for his specific tale.  Reading the book is like listening to a very informative talk story about life in Kapa'a, with random facts about history strewn about.  As he cites no sources, I would take the general history lessons with a grain of salt, although many of them could be considered common knowledge.  There are also many black-and-white photographs of the Roxy Theater, his family and Kapa'a that help enhance the experience.
Overall, Rainbows Over Kapa'a does its job, providing an informative source and renewing interest for his hometown of Kapa'a.  When Bill Fernandez is at his best, he is able to mix in a historical backdrop or interesting fact to set the mood or place of his next story.  The most intriguing of this provides a slice of life look at Hawaii during a specific time-frame—such as when Fernandez describes how his father, along with other curious observers, would crowd into the telegraph office in Honolulu to read a word-for-word ticker tape recreation of a heavyweight boxing match; or how a young Bill Fernandez would run errands for the G.I.'s during martial law on Kauai, providing them "cokes, donuts, candy, hot dogs and ice cream," cigarettes, and most importantly any news of available women on the island.
The book is available at most book stores in Hawaii and has recently been accepted in the University of Hawai'i and Hawaii State Library systems in the reference and non-fiction sections.  For more information about the author, please visit Bill Fernandez's web site here.
Rainbows Over Kapa'a
By Bill Fernandez
Central Pacific Media, 2009
134 pages
Disclaimer: We received a copy of this book from the author in exchange for our honest review.