[gn_quote]Surfing is Hawaiʻi's gift to the world.  Actually, board sports are Hawaiʻi's gift to the world, so that includes surfing, skateboarding, snowboarding, kite surfing, windsurfing—basically anything that's done on a board, the concept came out of Hawaiʻi and went around the world.
–Stuart Holmes Coleman, HBB Interview[/gn_quote]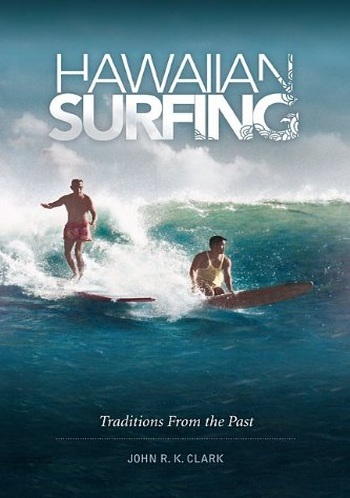 Between Isaiah Walker's excellent Waves of Resistance [read our review] and this new book from University of Hawaii Press—John R.K. Clark's Hawaiian Surfing: Traditions From the Past—we are experiencing a cresting wave of renewed academic interest in this ancient sport, further entrenching the idea that surfing, for all its universal appeal and practice, is truly Hawaiʻi's gift to the world.
In Hawaiian Surfing, John R.K. Clark explores the wealth of Hawaiian language literature to produce a reference book that is truly without peer in its accounts and references of traditional Hawaiian surfing.  We've learned in books like Mai Paʻa I Ka Leo that there is an immense wealth of untapped Hawaiian language sources that are begging to be translated.  The subtitle of this book, Traditions From the Past, exemplifies what Clark did with this book and what I like most about it.  He took Hawaiian language primary sources—from the traditional Hawaiian canon to previously untranslated Hawaiian newspaper accounts—and brought them into our modern world, so that these places and practices have more context and meaning to us in a contemporary setting. Clark takes the things we intrinsically know about surfing and provides it with a backbone, an ancient foundation that returns it back to the people of Hawaii.
The first part of the book, provides the primary narrative, dividing itself among three chapters on general surfing, surfing sports, and surf spots.  In these chapters, Clark ties together Hawaiian language excerpts (with appropriate translations) into themes explaining the importance of surfing to Hawaiians, its diversity of practice (royalty and commoners, men and women alike would surf together) and even missionary opposition to its existence.  The next chapter goes into great detail on traditional types of surfboards, skills, styles, chants, surfwear and discusses the various sports practiced in the surf.  In the final chapter of this section, Clark presents Hawaiian language text that indicate where Hawaiians surfed on each of the eight main islands.
The second part of the book, and what constitutes the majority of its pages, is the Hawaiian-English Dictionary of Surfing Terms.  This dictionary includes any and all Hawaiian terms related to surfing.  Each entry includes an English translation and a number of relevant passages to understand how the word was used in the context of Hawaiian language.  Clark states in his introduction to this section that many of the terms used are outdated, and may be unfamiliar to Hawaiian language students today.  I think that's fascinating in a linguistic sense, and could provide an extra point of interest for those studying Hawaiian.
The book closes out with the final section, covering "Waikīkī Place Names Related to Surfing."  This includes common English and Hawaiian areas of surf in Waikīkī, an explanation of where it is, and once again, primary resources detailing its importance.  Rounding out the final pages of the book are a handy English-Hawaiian surfing terms list, a list of references used, and an index of surfers and surf spots.
Hawaiian Surfing is probably not the kind of book you'd want to take on the beach and leisurely read.  It comes in at a little under 500 pages, and most of the primary resource material is printed in a smaller font than Clark's narrative.  It is a reference book, so unless you're the type who enjoys perusing the dictionary or encyclopedia (and hey, I'm one of those people), it's not one of those kinds of books.
What it is, however, is the kind of book you want to own and have in your library.  It is a fantastic source of references for those interested in true surfing history, the geography of our island surf and shores, and Hawaiian language and culture.  It's easy to thumb through if you're looking for something specific related to Hawaiian surfing, and organized in a way that makes it easy to generally peruse for information.  The only aside I truly have would be a visual one.  I would have loved to have seen more graphic representation to further understand some of the terms and concepts in the book.  I also think a map indicating the surf spots, both old and new, would've added a great deal of depth and function to the text.  All in all, these are relatively minor gripes as the true meat and potatoes of the book is the extensive collection of Hawaiian language text on surfing.
Meticulously researched and compiled, Hawaiian Surfing is a treasure of Hawaiian primary resources detailing the tradition of surfing in Hawaiʻi.  A book like this can easily be enjoyed by not only surfers and history buffs, but by the general public in Hawaiʻi at large.  It's one of those reference books like Place Names of Hawaiʻi, The Hawaiian Dictionary, or yes, Pidgin to da Max, that could easily find a generous place on anyone's bookshelf.  Hawaiian Surfing is an important tool to help those of us who don't understand the language, and maybe even some of us who do, to have a greater understanding of not only surfing and its roots, but of Hawaiian language, traditions, and culture.
Hawaiian Surfing: Traditions from the Past
By John R.K. Clark
University of Hawaii Press, 2011
495 pages, paperback
$24.00
ISBN: 978-0-8248-3414-2
[gn_divider]
Author Talk and Book Signing!
An author talk with John R.K. Clark for Hawaiian Surfing: Traditions From the Past will take place on Sunday, July 17 from 3:00 p.m. to 5:00 p.m. at Native Books / Nā Mea Hawaiʻi located on the ʻEwa end of Ward Warehouse.  His informative talk will be followed by a book signing, refreshments, and informal discussion. The public is invited to attend this free presentation and books will be available for purchase.  Don't miss out on this opportunity to learn about the history of surfing in Hawaiʻi.
*Disclaimer: We received a complimentary copy of this book from the publisher in exchange for our honest review.