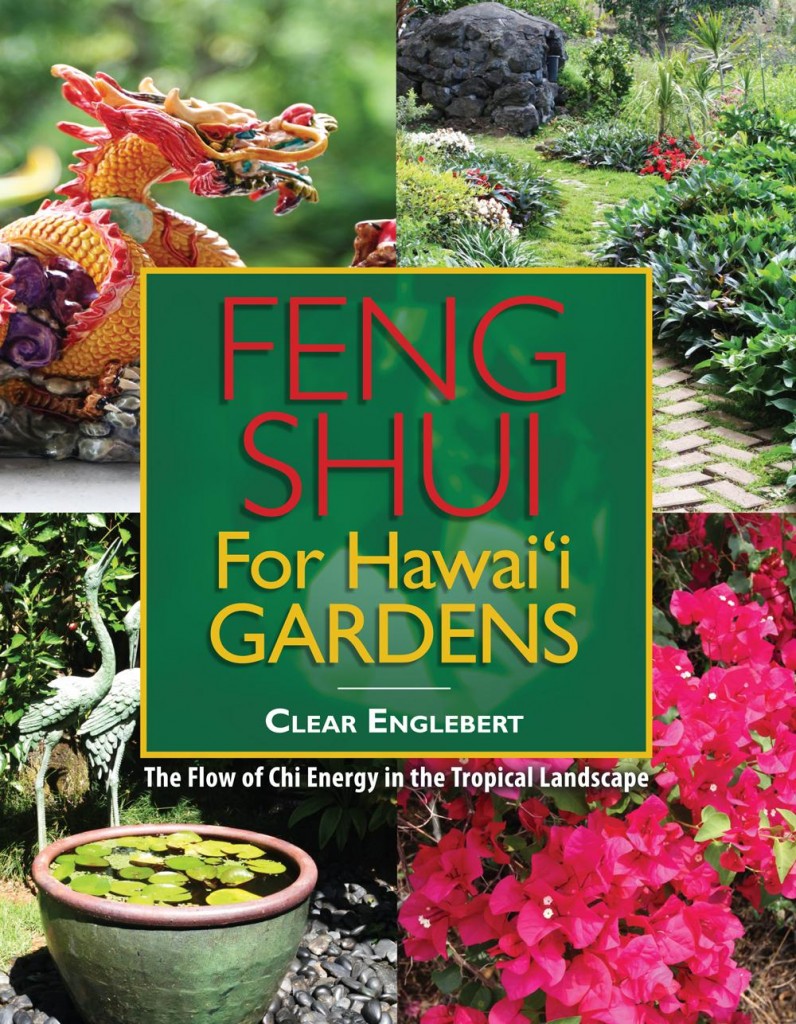 One of Hawai'i's well known feng shui practitioners and design consultants, Clear Englebert, is back with a new book to help you focus and strengthen your energy flow in Feng Shui for Hawai'i Gardens: The Flow of Chi Energy in the Tropical Landscape (Watermark Publishing, 2012).
This latest feng shui installment  will help you optimize the energy flow of your outdoor spaces by creating balanced and beautiful garden environments for you to enjoy. Starting from the road  and the areas of your driveway all the way up to the front door Englebert gives advice on colors, plants and accessories to help invite good chi into the home, create harmony in your surroundings, and protect your home from negative energy. For example, rounded "friendly" plants should be planted along the roadside of your property. Or maybe I just like the idea of round plants being friendly.
This book is specific to Hawai'i because it includes the feng shui properties of native and indigenous plants. I really enjoyed reading about what the various plants and flowers symbolize. I also enjoyed how Englebert included pictures of different yard spaces pointing out what was working and what wasn't. There are a lot of details in this book to help you transform any space, big or small. Unfortunately, I feel like it could have been organized a bit better. It's not very user friendly if you're just looking for some quick tips that are pertinent to your specific house or yard arrangement but there's definitely something in here for everyone.
For a list of upcoming events, please visit this book's events page on the Watermark Publishing website.
Clear Englebert has taught feng shui in Hawai'i and California and consults on homes, gardens and commercial spaces throughout the Islands. A recognized feng shui expert, he has been featured on television programs and in print media and has published two previous feng shui titles for a national audience, Feng Shui Demystified and Bedroom Feng Shui, as well as the best-selling Feng Shui for Hawaii, now going into its third printing.
Feng Shui for Hawai'i Gardens: The Flow of Chi Energy in the Tropical Landscape
by Clear Englebert
Watermark Publishing, February 2012
Paperback, 216 pages
$22.95
Disclaimer: We received a complimentary copy of this book in exchange for our honest review.