Father Damien is likely the most famous religious figure to come out of Hawaiʻi.  Everyone more or less knows the story of the man who would become a Saint.  Born Jozef de Veuster in Belgium, he would later take his vows as Damien.  Chosen to join a mission in Hawaiʻi, he began to see leprosy ravage the Hawaiian people and volunteered to be the sole priest at a leprosy settlement in Kalawao on Molokaʻi. Damien unselfishly gave of himself, providing care and guidance to the abandoned and isolated leprosy victims, living among them as equals until he ultimately contracted the disease and passed away.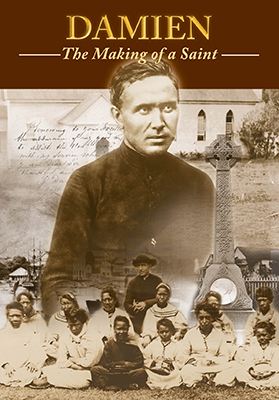 There are numerous books about the man, from academic tomes, in-depth histories, and even comic books.  Mutual Publishing feels that amid this body of work, there does not exist a simple, cogent version of the life of Father Damien leading up to his canonization.  Given that he was canonized only two years ago, they probably have a point.  Damien: The Making of a Saint is Mutual's answer to this call, attempting to bridge the gap between the casual reader and more verbose histories of Father Damien.
Where the book succeeds most is in the look and design.  The publisher took the extra effort to ensure that the book would appeal to a general book-buying populace.  From the beautiful hard-cover jacket to the glossy designer pages, Damien provides that sense of a well polished book tailor-made to be displayed on your coffee table.
Inside, what you'll find is literally a book of quotes.  After a very useful timeline and foreword, the book is divided into four main sections, each leading off with a page-long overview of events covering that subject.  The remainder of each section is then made up of firsthand primary source material in the form of quotes and passages taken directly from the people who lived in that era or written accounts of the day.  I admit, considering the great number of histories written about Damien, I appreciate that this book and its researchers were able to put together a somewhat cohesive narrative using exclusively primary sources.  Taking into account the book's design, it makes Damien a very casual, but informative read.
A plethora of photographs and scans are used to visually punctuate the written words, the most effective being scans of actual documents, many of them letters written by Damien himself.  These not only continue the stream of referencing primary source material, but also help to create an aesthetic palette for the book to work through.  I commend the editors of the book for collecting such high quality scans and photographs—these alone provide much value to the book.
Overall, I was pleased with the outcome of Damien.  When I first saw it, admittedly, I thought to myself, "another Damien book?"  It's not an exhaustive history of Damien's life, nor does it attempt to be.  I appreciate the way the editors went about creating a succinct history of Damien—letting the words and images of the people who lived it speak for themselves.  Wisely, the book ends with a suggested reading list where you can further explore, with greater detail, the amazing life of Father Damien, the Saint of Hawaiʻi.
[gn_divider]
Damien: The Making of a Saint
Mutual Publishing, 2011
136 pages, hardcover
ISBN: 978-1566479462
*Disclaimer:  We received a complimentary copy of this book in exchange for our unbiased and honest review.