"Should I stay, or should I go?" It's a question every young person from Hawaiʻi struggles with–a question Alex and I still ponder. Should I stay here with friends, family and a place that is as much a part of me as the bones in my body?  Or should I go somewhere with bigger adventures and broader opportunities? Even under the best of circumstances, it's not easy to find your way in life.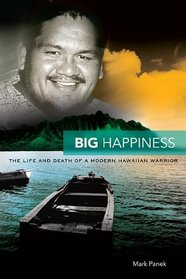 Big Happiness The Life and Death of a Modern Hawaiian Warrior (University of Hawaii Press, 2011), by UH Hilo Professor Mark Panek, is an account of the amazing and tragic life of Percy Kipapa, local boy turned professional sumo wrestler. In my opinion it's an important work of creative nonfiction and one of the best local books of 2011. Using a combination of personal experiences with Kipapa, interviews, newspaper articles and court documents, Panek has seamlessly composed a narrative that tells the story of how Percy Kipapa came home a hero only to end his life as a terrible reminder of the destructive power of "meth" addiction. It's an unofficial biography of a man and a community struggling to stay afloat in a world changing too quickly.
The book begins when Percy is training in Japan. We can tell right away through Panek's descriptions how rigorous it was, emotionally and physically, and how much Percy missed home. Despite the challenges, Percy recognizes the opportunity and wants to make his family proud. He succeeds and becomes one of the highest ranking wrestlers in Japan only to realize the shelf life of the average sumotori is pretty short. He returns home and although happy to be among family and friends, gets dragged down by a rip tide of problems. Lack of job opportunities, financial troubles, dysfunctional relationships and the influence of childhood friends leads Kipapa down a dangerous road of crime and addiction. It's a sad, ironic, all too familiar tale and Panek doesn't pull any punches about the realities that Percy Kipapa found himself in.
Well researched and exceptionally written, this book reads like a novel. It's almost as if you're reading from Percy's point of view even though Panek is the narrator. It does take a bit of getting used to, almost like a reverse memoir but the story seems more interesting relayed throught the somewhat disconnected eyes of Panek. He does an excellent job of portraying Percy and the people around him in an open and candid way while still respectful of them. He doesn't hide anyone's flaws or cast any blame, because when it comes to violence and drugs in Hawaiʻi there's enough blame to go around for everyone. Panek weaves his own interactions with Percy into the story which brings a whole different level of sincerity to the narrative.
I said good-bye because I knew that I'd never see him again, that he'd never come up with the two hundred dollars, and that the shame of owing it to me would keep him from calling or dropping by like he'd been doing for the past few months. I knew exactly where the money was going, and while I was so busy trying not to judge Percy for that fact, I was trying to hide from myself the fact that I wasn't going to do a thing about it. No, it was worse–I was wishing Percy's problem away. Even worse, I was wishing Percy himself away, all the while trying to justify it with internal excuses about my own busy life. I was hoping Percy wouldn't call again, that he'd somehow get help from somewhere else, that he'd kick the habit on his own. I ignored the whole thing out of convenience.
It was this simple, honest paragraph that stayed with me the most. This book is an eye opener. It is important because it demonstrates exactly how beauracracy and politics causes the system to fail. How over development in rural neighborhoods like Waikāne, without proper infrastructure and support, can lead to an increase in crime. Most importantly, it shows that ICE is not just a personal problem, it's a social issue and a political can of worms. It's an ongoing struggle that we face here, but thanks to Panek and others it's not as much of a silent problem. Because it really is too easy to ignore things out of convenience, and to let issues grow until they seem impossible to deal with.
I'll admit, reading this book was a challenge for me. Alex tends to be the one who enjoys the heavier subject matter since I'm a bit of an escapist. In the end, despite the tragedy, I enjoyed learning about who Percy Kipapa was. He was a man full of aloha and kindness, with a great sense of humor and a strong sense of loyalty. It makes me sad to think that he accomplished his goal of becoming sumotori only to come home where there was nothing for him. But the best thing about this book, is that it made me more aware. That's what good books do and I highly recommend this one.
For more discussion on this book,  definitely read Susan Shulze, editor of TinFish Press who wrote a great piece, "Grounded by Humbleness" on her experience living near Waikāne and her reactions to the book. Also, UH Press posted a Q&A with Mark Panek on their blog. It's an excellent companion to the book and offers more insight into how and why Panek decided to write about Percy Kipapa and the crippling epidemic that brought about his untimely death.
[gn_divider]
Big Happiness: The Life and Death of a Modern Hawaiian Warrior
by Mark Panek
University of Hawaiʻi Press, 2011
304 pages, paperback
ISBN: 978-0824834685
*Disclaimer:  We received a complimentary copy of this book from the publisher in exchange for our honest review.