*The following is a press release from Mutual Publishing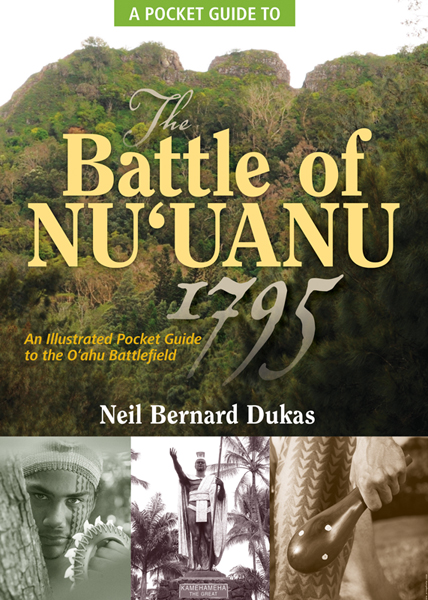 HONOLULU—Mutual Publishing and historian Neil Bernard Dukas are proud to announce the publication of A Pocket Guide to the Battle of Nu'uanu, an easy-to-follow and richly illustrated guide to this historic battle and its tragic conclusion.
Many are familiar with Herb Kawainui Kāne's iconic painting, "The Battle at Nu'uanu Pali", which depicts Kamehameha's men driving Kalanikūpule's forces off the edge of the cliff. But fewer know that at the time, 1795, the Hawaiian armies rivaled that of the U.S. in tactical sophistication and far outnumbered them. In fact, Dukas contends, the Battle of Nu'uanu ranks along with Yorktown, New Orleans, the Alamo, Gettysburg, and Little Bighorn as one of the more momentous clashes of arms to have ever taken place on what is now American soil.
In this thoroughly researched book, Dukas describes Kalanikūpule's seizure of English merchant vessels, Kamehameha's journey from the Big Island to O'ahu, the initial clashes at the foot of Pūowaina (Punchbowl), the death of Ka'iana and evacuation of Kalanikūpule, and the allied warriors' final moments at the edge of the Pali.
Illustrations, historical and contemporary photographs, driving directions, and maps—along with a step-by-step account of the events of April and May 1795—will help you recreate in your mind's eye this bloody and pivotal battle, one of the major events leading to the unification of the Hawaiian Islands.
A Pocket Guide to the Battle of Nu'uanu will be released by Mutual Publishing on August 1, 2010, and retails for $9.95. Available for sale wherever books are sold.
About the Author
Neil Bernard Dukas, author of A Military History of Sovereign Hawai'i (Mutual Publishing 2004), researches and writes about the military history of Hawai'i, focusing on the years prior to annexation. Originally from Ontario, Canada, he has a bachelor's degree in political studies from Queens University, and a master's degree in humanities from California State University Dominguez Hills. A former Dean of Instruction at Heald College (Honolulu Campus), Dukas is a member of the Honor Society of Phi Kappa Phi and the National Coalition of Independent Scholars. He is also an avid hiker, conservancy advocate, and horseman.
Hawaii Book Blog will be reviewing this book in the near future.  Stay tuned!