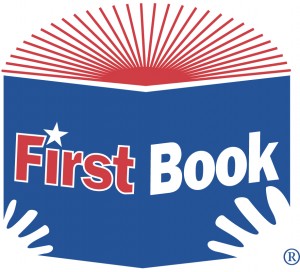 Hawaii Book Blog has returned from their sojourn in Las Vegas, the 9th Hawaiian Island, refreshed and ready to get back into Hawaii books and events!  The big news this week is that Hawaii is the winner of the First Book "What Book Got You Hooked?" campaign which will give 50,000 new books to underprivileged kids in our state.  First Book will be working with the local chapters and other organizations in an attempt to make sure all of the books are distributed to children who will need them on all of our islands.  I just want to take this opportunity to thank everybody who helped to make this possible for our kids.  If anything, this reaffirms the power of the internet and social media sites such as Twitter to help spread the word on important campaigns such as this one.  I was delighted to see how quickly the handful of tweets that started this thing spread like wildfire until it had a life of its own.  I even sat down and composed an e-mail forward to send to people who are still wary of sites like Twitter and Facebook–only to get a response that one of my contacts had already received something similar from another friend.  Hopefully, we will continue to use these social media tools to reach out to the community in order to help spread the word on great causes.
I know I do this all the time, but if you're reading this and helped out Hawaii when it was time to vote–I ask that you follow First Book-Oahu on Twitter and Facebook so that you will continue to be informed of any fundraisers this organization may be involved with in the future.
There are a number of great local organizations that help promote children's literacy.  In addition to First Book-Oahu who raises money to give underprivileged children new books, there is also Read To Me International who advance  literacy by promoting events and time spent reading aloud to children.  Please follow them on Twitter as well at READTOMEINTL.
Check it out:
Misty turned me on to this web comic anthology called Island Tales which is based on Pacific legends and folklore.  The first in the series is called Revenge of the Shark God.
As for the weekend, here are a few literary events that you can be involved with:
Friday, October 2nd
08:00am – Kahuku Library will be hosting a two-day book sale, starting today from 8am – 5pm in their conference room.  Details here
06:00pm – At Borders in Ward Centre, Waikele and Pearlridge and Windward Mall there will be a "Wild Rumpus" celebrating Sendak's classic Where the Wild Things Are including activities, crafts, giveaways and more!  Details
Saturday, October 3rd
08:00am - Kahuku Library Book Sale continues today until 2pm at the library's conference room.  Details
10:00am – Bill's Bookmobile will be open this Saturday from 10a – 2p with special deals on Halloween/mystery, children's and Romance books.  Details
10:00am – Friends of Mililani Public Library book sale until 3pm at Mililani Public Library.  Featuring special section of author-autographed books.
01:00pm – Author book signing event at Barnes & Noble Kahala.  Victoria Kneubuhl, Coochie Cayan and Mahealani Wendt sign copies of their new book, Ho'okupu: An Offering of Literature by Native Hawaiian Women.  Details
01:00pm – Jocelyn Fujii's new book Stories of Aloha launch and signing at Barnes & Noble Ala Moana.  Details
01:30pm – October is Filipino American History Month and to commemorate the Hawaii State Public Library will host a photo and art display all month as well as events on Saturdays.  On Oct. 3rd, the library will have an Opening Ceremony to start Filipino-American History month.  Source
02:00pm - Author signing at Basically Books in Hilo:  David Kawika Eyre, author of the Kana'iaupuni series which is a children's series about Kamehameha.  Details
If you have an event you would like us to help promote, please leave us a comment here or e-mail me at aalba@hawaiibookblog[dot]com.  Replace the [dot] with a '.' when you compose the message.  Mahalo and have a great weekend!