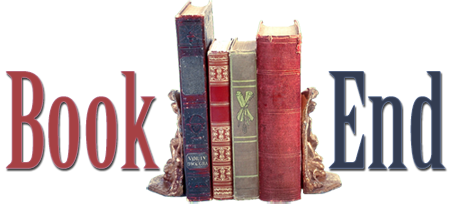 It's time…it's time…it's Book End Time! Welcome to this week's Book End, highlighting the week's literary and library events here in Hawaiʻi.
Book Fair
This Saturday, Barnes & Noble Ala Moana Center will be hosting a book fair for the Performing Arts Center of Kapolei.  Join the them for a special storytelling at 11:00 am under the Winnie the Pooh Tree!  Remember, purchases made at the store (including the coffee shop) can help benefit this group if you remember to inform the cashier.  For more information on how to help, call the book store at 808-949-7307.
Now on to the events…
Friday, January 20
Barnes and Noble Game Night! - We will be highlighting and demonstrating some popular educational games. We also will show you how to use the games in the classroom to aid in learning. Also, for participating in the event, you will be entered for a chance to win a NOOK Color and a $500 Barnes & Noble gift card!  Barnes & Noble Maui (325 Keawe #101, Lahaina); 6:00 P.M.  For more info, click here.
Vegetarian to Vegan author talk - Sarah Taylor, the author of Vegetarian to Vegan, will discuss why vegetarians should consider giving up dairy and egg products and how to survive without those foods.  In addition to Vegetarian to Vegan, which will be released later this year, Taylor is the author of Vegan in 30 Days. Taylor holds a certificate in plant-based nutrition from Cornell University and is on the faculty at the Nutritional Education Institute. Kaunoa Senior Center (401 Alakapa Place); 7:00 P.M.  For more information, contact the Maui director of the nonprofit Vegetarian Society of Hawaii, Steve Blake, by email at steveblake@hawaiiantel.net or by calling 572-8371.
Saturday, January 21
Friends of the Waialua Public Library Book Sale - The Friends hold a book sale at the library every 3rd Saturday of the month!  There is also a bake sale at the book sale.  Join the Waialua Friends in supporting the Library and find cheap books and ono treats!  Waialua Public Library (67-068 Kealohanui St.); 9:00 A.M. to 2:00 P.M.  Call (808) 637-8286 for more info.
Calendar Gift Bags: An Eco-Friendly Craft Workshop - Eco-friendly craft expert Evelyn Nakamura will conduct a one-hour workshop on creating calendar gift bags. Your old calendar pages can be reborn as useful, attractive gift bags. Use them for gifts, favors, or goodies. Learn a process that can be applied to any size or type of paper. Additional ideas for using calendars will be shared. Attendees will have enough supplies to make about a dozen bags. Space is limited and registration is recommended. Program is suitable for ages 18 and older. Kapolei Public Library (1020 Manawai St.); 10:30 A.M.  For more information or to register, contact the library at 693-7050.
A Sweet Dash of Aloha book signing and demonstration - Meet the Chef! Sample the Goodies! Meet the culinary minds behind the hottest local cookbook, A Sweet Dash of Aloha: Guilt-Free Hawaii Desserts and Snacks [read our review here].  A chef will be here to discuss healthy eating, demonstrate technique and share samples and will sign your copy of the book too!  Demonstration by Chef Carol Nardello.  Barnes & Noble Kahala Mall; 11:00 A.M.  For more information, click here.
Children's Storytime - Come to the book store every Saturday for a fun keiki story time reading.  This week they will be reading Crysanthemum by Kevin Henkes.  A girl named Crysanthemum goes to school and is faced with mean-spirited children who make fun of her name.  Find out what happens to her!  Barnes & Noble Ala Moana Center; 11:00 A.M.  For more information, click here.
Year of the Dragon workshop w/ Alice Inoue - A free seminar with Star-Advertiser Feng Shui columnist and renown Life Guide Alice Inoue on how to make the best of the upcoming year using the principles of feng shui. Understand the new cycle and the new year. January 23, 2012 is the year of the water dragon – noted for its visionary intelligence and balancing qualities. How can you create a home that manifests your life in the direction that you desire? Join this unique, fun and life-enhancing seminar. Learn tips and concepts that you can apply to your home to welcome in the new year.  Simply Organized (889 Kamokila Blvd, Kapolei); 1:00 P.M. to 2:00 P.M.  For more information, click here.
Sakura Ensemble - The Sakura Ensemble focuses on international, classic, ethnic and jazz styles, and Japanese traditional repertoire.  Free to the public.  Kailua-Kona Public Library (75-138 Hualalai Road); 2:00 P.M.  For more info, please call the library at 808-327-4327.
Author Event w/ Fran Dieudonne, biographer of Theodore A. Vierra - Please welcome Fran Dieudonne, writer of Always Remember You Are Hawaiian: A Biography of Theodore A. Vierra.  367 Vierra designed homes still stand in Kahala.  Joining Fran will be archtectural historian Monica Bacon and KSBE archivist Janet Fisk.  Barnes & Noble Kahala Mall (4211 Waialae Avenue); 2:30 P.M.  For more information, click here.
Volcano Art Center Poetry Slam - Another amazing evening of poetry, performance and fun with Performance Poet Kimberly Dark! Up to fifteen poets will be chosen at random to perform. Bring 2 poems of your own creation no longer then 3 minutes each (lose points when to long!). Please, no props, costumes, or music. Prizes awarded to the top 3 finishers as chosen by the judges. Admission is $6. Drinks and snacks available for purchase so bring your poetry, your voice, your energy, and your appetite! Volcano Art Center's Niaulani Campus (19-4074 Old Volcano Rd.); 7:00 P.M.  Doors open at 6:30 P.M.! Visit volcanoartcenter.org or call Dave Wallerstein at 967-8222 for info.
Remember, all events listed above may be subject to change. Please contact the venue beforehand if you plan on attending. We encourage you to click on the links that are included with the events in the time line above. More events can be found on our Hawaiʻi Book Blog Events Calendar. You can also keep up with events through us on Twitter by following @HawaiiBookBlog.
If you have an event you would like us to help promote, please leave us a comment here or e-mail me at aalba@hawaiibookblog.com. Mahalo and have a great weekend!