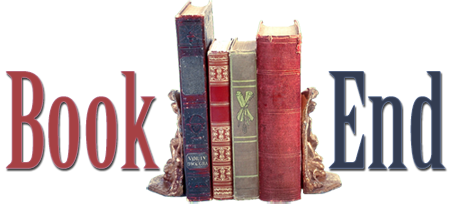 It's time…it's time…it's Book End Time! Welcome to this week's Book End, highlighting the week's literary and library events here in Hawaiʻi.
This weekend isn't very busy, most likely due to Easter festivities.  Be sure to continue to check with us for the latest literary events during the regular week and to come.  Mahalo.
Holiday Library Hours
All Hawaii State Public Libraries will be closed on April 6 and 8 in observance of Good Friday and Easter Sunday respectively.
No First Saturday Sale
For anyone looking forward to the Friends of the Library of Hawaii's First Saturday Sale at Bill's Bookmobile, you might be disappointed to find out that there will be no sale in April.  Don't worry, though, the First Saturday Sale returns next month on May 5th!  Cinco de Mayo!  As always, Bill's Bookmobile is open on weekdays from 10 a.m. to 2 p.m.
Friday, April 6
All public libraries will be closed for Good Friday.
Author Signing w/ Denise Wilson – Denise will be signing and discussing her fantastically written book, Nothing Matters, about what happened when she was faced with a blank sheet of life and no idea what to do with it. She bought a ticket to Maui, and what follows is an entertaining spiritual life story told with a deft sense of humor.  Barnes & Noble Lahaina (325 Keawe #101); 4:00 P.M.  For more info, click here.
Saturday, April 7
Poetry Fever - "Poetry Fever" injects humor to the written and spoken word to discuss topics ranging from local culture to school lunch. Material for the program is selected from 10 years of exceptional writing by Hawaii's local students. The performance provides an authentic voice to the experiences of growing up in modern-day Hawaii and encourages audiences to give thought and voice to their own experiences. The 45-minute performance is suitable for middle and high school students.  Two performances today: Aina Haina Public Library (5246 Kalanianaole Highway); 10:30 A.M.  For more info, call the library at 377-2456.  Kailua Public Library (239 Kuulei Road); 3:00 P.M.  For more info, call the library at 266-9911.
Special Children's Storytime - Come to the book store every Saturday for a fun keiki story time reading.  This week they will be reading Fancy Nancy and the Mermaid Ballet by Jane O'Connor.  Fancy Nancy has a part in the upcoming dance show. Will she be the mermaid? Can Nancy bring her fancy flair to her role? But wait, it's not the part she wanted. Can she still steal the spotlight? Come and find out what happens. Barnes & Noble Ala Moana Center (1450 Ala Moana Blvd. Suite 1272); 11:00 A.M.  For more information, click here.
Sunday, April 8
Remember, all events listed above may be subject to change. Please contact the venue beforehand if you plan on attending. We encourage you to click on the links that are included with the events in the time line above. More events can be found on our Hawaiʻi Book Blog Events Calendar. You can also keep up with events through us on Twitter by following @HawaiiBookBlog.
If you have an event you would like us to help promote, please leave us a comment here or e-mail me at aalba@hawaiibookblog.com. Mahalo and have a great weekend!