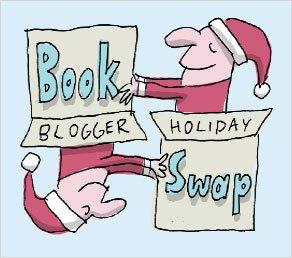 First and foremost, I want to apologize for the tardiness of this post.  The Book Blogger Holiday Swap happened in December, and it was two days before Christmas that I received my package.  I excitedly opened it and came out with one very impressive book and a DVD.  Prior to opening my gifts, which were very carefully gift-wrapped in some nice, high-quality wrapping paper, I opened the card that came with the present.  It was a dark but vibrant card hoping that I enjoyed the gifts and wishing me a happy holidays.  Unfortunately, in the hectic whirlwind that is Christmas and New Year's, the card was misplaced and ended up at the back of my couch.
Weeks later, embarking upon a 2012 cleaning fit, I searched among the documents that fell behind the couch's rear crevice and discovered the Book Blogger Santa's card I'd been so desperately searching for!  And after a week of procrastination, I bring you to today's post.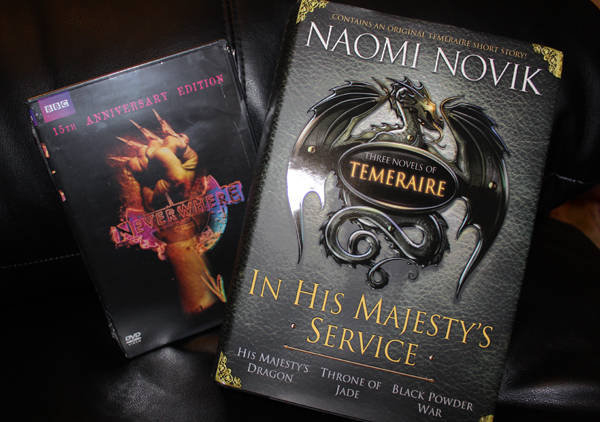 I want to thank Chelle a.k.a. Tempting Persephone for the excellent Christmas presents.  I received a massive tome by author Naomi Novik titled In His Majesty's Service, which collects the first three novels of the "Temeraire" series:  His Majesty's Dragon, Throne of Jade, and Black Powder War; as well as an original Temeraire short story.  Given my sheltered reading habits, I admit I hadn't heard of the series, but after reading the description of how it combines Napoleonic era conflict with the fantastical element of dragons—well, I'm definitely looking forward to reading this in 2012.  Second, I received a DVD—the 15th Anniversary edition of Neverwhere, which is the BBC TV miniseries based on Neil Gaiman's (I'm sure you've heard of him) novel of the same name.  Thank you Chelle, so much, for the thoughtful gifts!  What a great haul, huh?
If you're interested in books, be sure to check out her blog Tempting Persephone.  I know I've already added it to our Google Reader.  You can also follow her on Twitter at @persephonereads.  Once again, a big mahalo to Chelle for the Holiday Swap presents!  If anyone is interested in what we sent to our Secret Santa, check out our old post:  Book Blogger Holiday Swap 2011.