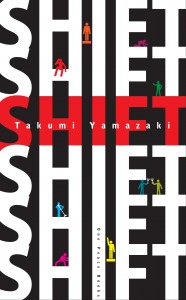 Best-selling author and self made millionaire Takumi Yamazaki will be visiting Honolulu to promote the English release of his book Shift: 13 Exercises to Make You Who You Want to Be (One Peace Books, 2011). Takumi is well known in Japan for his seminars and expertise in mental and time management, business leadership, communication and motivation.
His new book Shift leads you through creative exercises that help alter your perspective. The first few 'shifts' deal with self-image and how your past successes and failures help shape your current self-image, both conscious and subconscious. Takumi argues that the subconscious mind is a powerful tool in achieving goals and affecting self improvement; our natural reactions to outside events can either propel us forward or hold us back. Success and failure also establish personal comfort zones and thinking outside of these zones can influence change.
I really enjoyed the last chapter on perseverance and dealing with those days or weeks when you feel like you're in a rut. I think most people have no trouble getting motivated. It's staying motivated and committed to change that's the tricky bit.
It's not the most clear-cut motivational book—some of the "examples" are too conceptual, and while the illustrations are nice they're only marginally helpful in demonstrating the 'shifts'. I found myself re-reading certain sections just to make sure I was understanding things correctly and making the right connections between the different types of 'shifts'. But unlike other self-improvement books, Shift has exercises you can do by yourself or in a group. So, it's ideal for business teams or clubs, maybe even fun for a group of friends or as a family activity.
Event Info:
Come meet Shift author, Takumi Yamazaki.
Tuesday, March 29th at 5:00 pm
Barnes & Noble Ala Moana