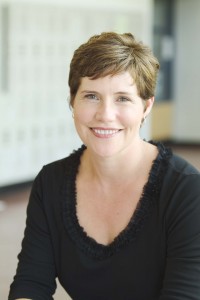 In celebration of her appearances this weekend with the Distinctive Women in Hawaiian History Program, we wanted to do an interview with bestselling author Julia Flynn Siler on her book Lost Kingdom.
Q: What inspired you to write Lost Kingdom?
A few years ago, my family and I were invited to spend the weekend at a ranch near San Francisco owned by some family friends. On a tour of the property, they swung open the door of an old, dusty barn. Inside was a treasure trove of what collectors call "Hawaiiana" – fierce-looking totems, grass skirts, feathered staffs, and calabashes. That's when I first started thinking about the close ties between California and Hawai'i – and started to wonder whether some of the great fortunes on the West Coast had their origins in the islands.
Q: How did you follow up on that hunch?   
Soon after visiting that barn, I went to the library looking for books that might explain the commercial and cultural ties between Hawai'i and California. One, in particular, caught my eye; it was about Claus Spreckels, a nineteenth century business tycoon whose nickname was the "Sugar King." The Spreckels were a powerful family in California's early days – controlling railroads, steamship lines, and huge sugar beet operations. But the surprise – at least to me – was that they made much of their money by virtually dominating the economy and the politics of the Hawaiian Islands.
I've always loved stories about families and the Spreckels truly were a true family dynasty – with all the infighting and intrigue one would imagine. They were a nineteenth century version of the Mondavis, the Napa Valley wine family that I wrote my first book about. And as I started learning more about Hawaiian history, I came to realize that American history also could lay claim to one true royal family – the kings and queens who once ruled Hawai'i.
Q: What did you learn about Hawai'i's royal family?
There have been all sorts of books about Hawaiian royalty over the years, but so far nothing that offered both an intimate glimpse into their lives and investigated the ways in which their lives became painfully entangled with those of enterprising businessmen such as Claus Spreckels. Thanks to my luck of meeting David Forbes, a historian who had spent the past four years collecting and transcribing every single letter, diary entry, and document pertaining to the last family that had ruled the Hawaiian Islands, I got an extraordinary look into the private lives of the last king and queen of Hawai'i. Many of these letters have never been published before and David very generously offered to share them with me around the same time he donated the collection to the state archives.
The Forbes collection – which included intimate correspondence among the members of Hawai'i's last ruling dynasty – helped me understand this talented and passionate family caught between their love and loyalty for their native Hawaiian subjects and the very powerful force of nineteenth century capitalism. They were under tremendous political, economic, and emotional pressure.
Q: We love the "cast of characters" at the beginning of your book and appreciate your detailed bibliography and end notes, what was the most challenging part of the research or writing process?
When I began researching Lost Kingdom, very few materials from the Hawaii State Archives were available digitally – so I ended up making many trips from the San Francisco Bay Area, where I live, to Honolulu, to dig through the archives. While my friends joke I must have loved my research trips to Hawaii, the truth was that I spent every possible minute I could in libraries or archives – not on the beach! Luckily, I had a wonderful research assistant, Catherine Thorpe, who came with me on one of those initial trips and helped organize the mountain of materials we gathered. It was Catherine, who also worked with me on "The House of Mondavi," who fact-checked and organized the hundreds and hundreds of end notes. My hope is that all the work we did in terms of documenting where our material came from will help other writers and scholars.
Q: What was your most interesting research find?
I remember spending an afternoon in the archives of the Bishop Museum in Honolulu and coming across a fascinating document – a page that Lili'u had torn from the Book of Psalms. She had written in pencil "Iolani Palace. Jan 16th 1895. Am imprisoned in this room (the South east corner) by the Government of the Hawaiian Republic. For the attempt of the Hawaiian people to regain what had been wrested from them by the children of the missionaries who first brought the Word of God to my people." Finding that yellowed page, which she had presumably torn out of the Bible and written on during the first night of her imprisonment after a failed counter-coup, gave me chicken skin!
 Q: How does the fall of the Hawaiian Kingdom relate to today's world?
 As a business reporter for many years, I saw what happened to Hawai'i through the lens of modern corporate behavior: it could be argued that the overthrow was a takeover of the islands, funded and supported in large part by business interests. In fact, some of the families and firms behind Queen Lili'uokalani's overthrow more than a century ago still wield power in Hawai'i. Castle & Cooke, one of the companies founded by the first Christian missionaries to the islands, was intimately involved in her overthrow. What happened to Hawaii was one of the most audacious land grabs of the Gilded Age, in which 1.8 million acres of land – now worth billions of dollars – was seized from native Hawaiians and claimed by American and European businessmen.
Q: You've been all over the country talking about your book, how have the different audiences reacted to this aspect of Hawaiian history?
Many mainlanders have a very tenuous grasp of Hawaiian history. During the talks I've done about Lost Kingdom in New York, Washington, D.C., Chicago, and elsewhere, the question I consistently get asked is about James Michener's 1959 novel, Hawaii. I point out that Gavan Daws, in particular, has produced a remarkable body of work over the past half century. Kanaka maoli scholars such as Jon Osorio, Davianna McGregor, Noenoe Silva, and others have fundamentally changed the dialogue about Hawaii and its people. But, when the first image that springs to mind about Hawaii is Julie Andrews and Max von Sydow starring in the film version of Michener's Hawaii, I'd say there's an opportunity awaiting for writers who can find ways to reach out to audiences beyond the reef.
Q: You're participating in community dialogue sessions with various groups this weekend, what do you hope to discuss?
I'm planning to discuss my experiences in sharing Hawaii's story with people on the mainland. I'm especially looking forward to talking with kids and teachers at Kamehameha and other schools.
Q: What are your favorite books about Hawai'i?
 As a lover of poetry and Hawaiian history, the perfect combination for me is W.S. Merwin's "The Folding Cliffs," the former U.S. Poet Laureate's epic novel in verse about nineteenth century Hawaii. Merwin has lived on the North Shore of Maui for decades and his sense of place shines through in this masterwork. I had the great honor of visiting him at his home and palm forest last year for a Wall Street Journal story, and that may have been the most personally meaningful interview I've ever done with someone in my decades as a reporter.
I also love Kaui Hart Hemmings' short story collection, House of Thieves, as well as her novel, The Descendants, which has made into an Oscar-winning movie with George Clooney. Both the movie and Kaui's novel offer of a view of modern Hawaii that is fresh and funny, and I have listened to The Descendants soundtrack, featuring the slack key guitar magic of Gabby Pahinui, Keola Beamer, and others, more times now than I can remember. I also am a fan of the late California writer James D. Houston, who deep aloha for the islands and its people. He co-wrote Hawaiian Son with the extraordinary Hawaiian musician Eddie Kamae, as well as a book on the history of surfing, and two novels about Hawaiian royalty, Bird of Another Heaven, about King David Kalakaua, and his last unfinished novel, A Queen's Journey, about Lili'uokalani.
 ***
Mahalo plenty to Julia for allowing us to interview her despite her busy schedule. Please check out the flier below to see some of the free discussion session Julia will be hosting over the weekend. If you can't make it to the DWHH Program on Saturday we highly encourage you to attend the free session at Bishop Museum on Monday, September 17th from 6-7:30pm. Joining her will be Dr. Ishmael Stagner talking about the hula legacy of Princess Nahinu.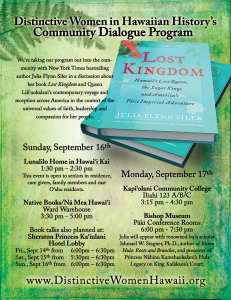 Julia Flynn Siler is a San Francisco-based author and journalist. The paperback of her most recent book, Lost Kingdom, is due out from Atlantic Monthly Press in January, 2013. For more information, please visit: www.juliaflynnsiler.com