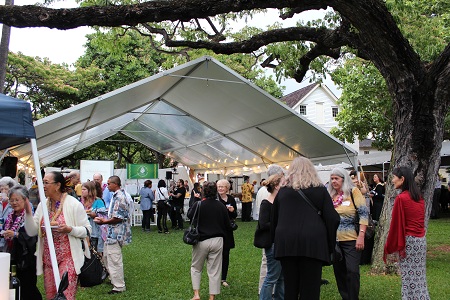 The 2011 Ka Palapala Po'okela Awards are done, and we decided to do a quick recap of the event with our thoughts on who won and whom we feel should have won. To make this recap a little more fun we typed up our conversation, transcript style, so you can read all the hilarious tidbits and bawdy dialogue as if you were right there with us.
[gn_divider]
Pre-award show thoughts
Misty: I thought the Mission Houses Museum was a good venue, especially with the first printing press there.  Too bad the weather was so gloomy.
Alex: I agree, I thoroughly enjoyed doing the Mission Houses tour.  Another highlight for me was the complimentary chocolates from Choco Leʻa.  If you haven't tried the butterscotch, I highly recommend it.
Misty: I liked the setup with the stage and the tent, it was very open and airy and I felt they had really nice slides rotating on the screen this year. 
[gn_divider]
Excellence in Children's Hawaiian Literature
Our Prediction: Kohala Kuamoʻo / Winner: Legend of the Gourd
Misty: I thought No ke Anilā was a better book.  It was useful and entertaining.

Alex: I agree, I also wanted No ke Anilā to win.  I didn't think much of the book based on the cover, but after reading it compared to the others, I was quite surprised to find that I enjoyed it the most.
Misty: Carole Kai kept talking about the next generation and that it's good that we can recognize their achievements regarding Kohala Kuamoʻo.  I guess that's why we predicted it would win this category, even though the story seemed a little disjointed and confusing at times.
Excellence in Children's Illustrative/Photographic Books
Our Prediction: Legend of the Gourd / Winner: Legend of the Gourd
Alex: No surprise here on our prediction, Caren Loebel-Fried is a previous winner and her books always have such a polished and professional sheen to them.
Misty: I wasn't surprised either.  People love her wood block prints.
Alex: Since Caren is a previous winner, I think we both were hoping Lio the Carousel Horse and Plenty Saimin would win, as they both provide beautiful and new illustration styles.  So, we were very happy to see that Plenty Saimin won the Honorable Mention in this category.
Excellence in Children's Literature
Our Prediction: Kohala Kuamoʻo / Winner: Plenty Saimin
Misty: I should mention that Carole Kai repeated her previous sentiments regarding young talent, again in this category. Her fawning over the fact that Kohala Kuamoʻo was "written" by a 12-year old was an example of why we thought more people would vote for it.  I personally wanted Plenty Saimin to win. Not that I don't appreciate the wonderful accomplishments of young writers.

Alex: Me, too!  It was a nice surprise that Plenty Saimin won; it was definitely my favorite book in the category.  We also both thought I Choose You was another strong book that should've gotten more recognition.
Excellence in Hawaiian Culture
Our Prediction: Mai Paʻa i ka Leo / Winner: Mai Paʻa i ka Leo
Misty: I'm glad Mai Paʻa won because it's truly a phenomenal book, but I also loved Uncle Kawaiola's Dream because of the way it portrays Hawaiian values.  I had hoped it would take Honorable Mention.
Alex: I concur with you about Mai Paʻa whose originality just blew me away.  We also thought The Queen's Medical Center was a very well done book and wouldn't have been surprised to see it get second honors.
Excellence in Literature
Our Prediction: Anshū: Dark Sorrow / Winner: Anshū: Dark Sorrow
Alex: For me, my two favorites were Tweakerville and Anshū, so I was very happy to see that they both came out winners in this category.  Both books rank as two of the top local novels I've read in the past year, and deserve any and all praise heaped upon them.
Misty: The only surprise for me in this category was when one of the emcees butchered Alexei Melnick's name, not once, but three times, pronouncing it as "Alexia" among other abominations. I felt bad for Alexei, it's hard to get up there in front of everybody, even harder when they say your name wrong.
Alex: Haha, I almost forgot about that travesty.  Anyway, this category was difficult this year because No Choice but to Follow was also an outstanding book.  If it were nominated in any other year it probably would've won.
Excellence in Illustrative or Photographic Books

Our Prediction: Hart Wood: Architectural Regionalism in Hawaiʻi / Winner: Polynesia
Misty: I thought Hart Wood would win because the Academy usually has a thing for architecture books and there was a lot of chatter about it throughout the year.  I personally liked Hawaiian Birds of the Sea and Akule.
Alex: I guess I'll say it first—we don't get all the love for Polynesia.  Do you know how hard it is to photograph fish in formation?  How hard is it to take a picture of a vase?  Akule should've won.
Misty: Polynesia? *snore* I would re-title this book, "Vanity".
Excellence in Natural Science

Our Prediction: Hawaiian Birds of the Sea / Winner: A Photographic Guide to the Birds of Hawai'i
Alex: We had a feeling one of the bird books would win.  It was a toss-up, really.
Misty: A Photographic Guide is more science, but Hawaiian Birds of the Sea has cute baby bird pictures.  Apparently the Academy doesn't vote for cute baby birds.  🙁
Alex: Baby birds be damned!
Misty: *gasp*
Alex: But seriously, I thought Hawaiian Birds of the Sea was a more interesting book—especially visually—though I can see A Photographic Guide being the more useful and practical of the two.  I'm actually surprised Living on the Shores of Hawaiʻi got no love in this category.  It's by far the most "scientific" of the three.
Excellence in Text or Reference Books
Our Prediction: Regulating Paradise / Winner: Ancient Sites of Oʻahu
Misty: Ancient Sites of Oʻahu is a great book, and the second edition is better, but I was torn because Asian Supernatural is just an incredible collection of folklore entities.
Alex: Of all the nominees, it's fitting that Ancient Sites, Regulating Paradise and Asian Supernatural were the three books recognized in this category.  Personally I was also rooting for Asian Supernatural and was pleasantly surprised that it won Honorable Mention among these other academic tomes.
Excellence in Cookbooks
Our Prediction: The Blue Tomato / Winner: The Blue Tomato
Alex: If these categories were NFL games, The Blue Tomato would've been my Lock of the Week.  No surprises here, it was head and shoulders above the rest.
Misty: Of all the nominees, there's no competing with The Blue Tomato.  I'm glad it won.  What I'm not glad about is that What Maui Likes to Eat got Honorable Mention.  Maybe people were voting with their eyes closed?
Alex: I actually thought The Hawaii Farmers Market Cookbook Volume 2 would take Honorable Mention, although I was secretly rooting for Hawaii's Bento Box Cookbook Volume 2 to take that honor, so I was also surprised with the strong showing of votes for What Maui Likes to Eat.
Misty: How many "Maui Eats" books do we really need to have?  How is it more original than the Farmers Market Cookbook or the Bento Box Cookbook (yes, I'm aware both are sequels). Still, I fail to see the excellence.
Excellence in Special-Interest Books

Our Prediction: Practice Aloha / Winner: The Polynesian Tattoo Today
Misty: Everybody was talking about Practice Aloha; I grudgingly thought it would win.  Thankfully, people must have been voting with their eyes open for this one.  I could barely get through the first 20 pages of Practice Aloha.  I'm so glad The Polynesian Tattoo Today won.

Alex: I don't know what to say to that.  *laugh*  I should've known The Polynesian Tattoo Today would've won based on it being one of our most popular book reviews of all time (based on page hits).  The two books I liked the most in this category won honors, so I'm happy.
Excellence in Nonfiction

Our Prediction: The Value of Hawaiʻi / Winner: Mai Paʻa i ka Leo
Alex: My favorite book in this category won and I'm glad The Value of Hawaiʻi took second honors.
Misty: The Value of Hawaiʻi is an important book because it encourages thoughtful discussion on the important civil issues in Hawaiʻi, but Mai Paʻa i ka Leo is such an eye-opener, you can't help being totally engrossed in it.
Alex: I agree, although I thought The Value of Hawaiʻi had a good chance of winning due to the unique and captivating way that the people behind the book organized different events that contributed to the dialogue that began within its pages. It's a book for the people, meant to be shared, talked-about and debated.
Excellence in Design

Our Prediction: The Blue Tomato / Winner: Polynesia
Misty: Excellence in Design to me means aesthetically pleasing, well organized, and efficient.  For $100, I better be able to find the Holy Grail in Polynesia.  It's not that efficient.  The Blue Tomato—easy to find recipes.
Alex: I thought The Blue Tomato was the prettiest book I've seen this year.  It should've won, but I'm glad it was recognized as Honorable Mention.

Excellence in "Aloha from beyond the Sea"
Our Prediction: N/A / Winner: Gaff
Misty: Um, I'll save these four seconds of my life and not comment on the sad showing of books in this category this year.
Alex: I'm pretty sure there were other books published that should've been nominated in this category, but I suppose it's the category with the least priority.
Samuel M. Kamakau Award for Hawaiʻi Book of the Year
Winner: Polynesia / Runners-up: The Blue Tomato and What Maui Likes to Eat
Misty: It's almost a crime that Polynesia is 'Hawaii Book of the Year', and extremely disappointing.  That means of all the books published last year, it was picked by people as the most representative of and best in local literature. I don't know how that many people could have actually obtained and read a copy, honestly, unless they were handed out to one group of people and not others (which only proves my point).
Polynesia is not a book for your everyday reader; even your average person interested in Pacific artifacts wouldn't buy and couldn't afford it. It's printed with unnecessarily expensive material, in limited quantity and priced above any reasonable range. It's subject matter is a private collection of priceless and one-of-a-kind Polynesian artifacts and cultural items published by the collector himself as a means to "share" the objects with the world. But that's not entirely true. "Give me your important treasures, I'll take care of them and put them in a book you won't be able to buy!"
Polynesia's over-glossed pages are a slap in the face. Sure, it won for Excellence in Photographic Books and Best Design, that's fine, and yes even deserved.  But I take serious contention with it being represented as Hawaii Book of the Year. It's sad; a book that practically segregates the masses from the "select few", is the best of Hawaii? Literacy empowers, books are social equalizers, I feel like Polynesia set us back a couple centuries.
I'm not completely naive and idealistic, I know there are other books like Polynesia out there, thousands even, but they didn't just win 'Hawaii Book of the Year'. Polynesia should take a lesson from The Value of Hawaii…  our most valuable posessions are our ideas anyway. My Grandma loves the saying, "everything that glitters isn't gold" and that's certainly true in this case. Maybe I'm overreacting, but compared to the other extraordinary books that came out… it just really makes you wonder.
Alex: Well said.  I'd like to point out Misty hadn't even read Ragnar Carlson's exceptional review of Polynesia in the Honolulu Weekly when she formulated her above thoughts, so there must be others who came to the same conclusion.  After reading the review aloud to her, she literally clapped her hands in applause.   We agreed with his (Carlson's) surmise that there was a lack of the ethical questions involved in keeping such a large private collection.  The book (literally) glossed over those debatable issues, making it seem to us like a rich man's glorified photo gallery.
I personally thought the finalists for the Kamakau were a bit weak this year, with the exception of The Blue Tomato.  Of the three books nominated, I would have preferred that one winning.  In addition to Alan Wong's gorgeous book, a few others I would have rather seen in the finalists and/or winning the top prize would've been Tweakerville (a personal favorite, I must admit), Anshū, Mai Paʻa i ka Leo, or The Value of Hawaiʻi , to name a few.
[gn_divider]
So, those are our thoughts on the nominees!  I'm sure we may have stepped on more than a few toes in the process, but the truth is, these are our opinions—some people will agree with them, some will not.  We share them with you because we feel very passionately about Hawaiʻi's book publishing industry and want to see it become the best it can be.  We want to see the books that we feel represent the best in Hawaiʻi literature recognized for their talent and effort.
All in all, we had a terrific time at the awards.  Mahalo to the Hawaiʻi Book Publishers Association for another great night and lovely gala, and for inviting us to participate in this wonderful event.  If you missed it this year, hopefully you'll have the opportunity next year to join us!
For a list of all the winners including Honorable Mentions and the People's Choice Award, view our post: 2011 Ka Palapala Pookela WINNERS