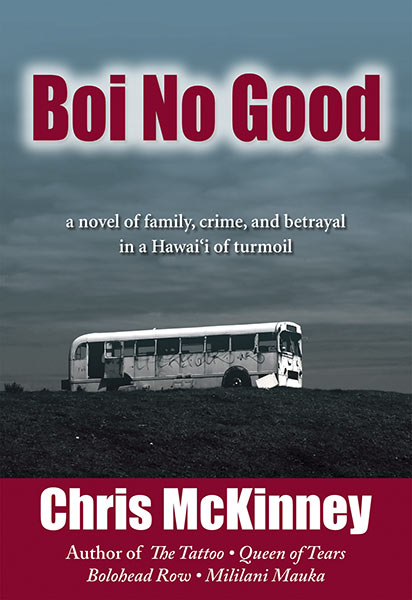 Abridged from the original in the Honolulu Star-Advertiser 11/25/12
Hawaii writer Chris McKinney is often praised for his gritty portrayal of the darker side of paradise, the underbelly of a rapidly changing community.
His previous work — Mililani Mauka (2009), Bolohead Row (2005) and The Tattoo (1999) — has shown that McKinney excels at writing about the disconnected and dissatisfied modern Hawaii man.
For some readers this contrarian perspective may be edgy and refreshing, but many others already know about these things: the lack of affordable housing, over-development, traffic, meth addiction, diabetes, and the list goes on. In some ways the tropes McKinney writes extensively about are just as much a stereotype of island life as plastic palm trees and coconut bras.
However, it's the little things, the subtle truths, that will resonate most with Hawaii readers. Things like the importance of family and passing down names, or the cultural significance of bones are the kind of details that Kahaluu-raised McKinney is undeniably talented at capturing.
At first glance his new novel, Boi No Good, seems to be more of the same, centering on characters who grow from troubled childhood to dysfunctional adulthood. In this case the story starts with three neglected and abused kids who live with their dying grandmother in a beat-up old bus. Their drug-addicted mother stops in only to steal yet another Hawaiian bracelet and family heirloom. By the time the children are rescued by a social service agency, they have been living with their grandmother's corpse for days, subsisting on canned beets and fruit punch.
The powerful imagery of this first chapter stays with you through the whole novel as the narrative follows the journey the children take as they grow up in vastly different foster homes.
The two brothers reunite as adolescents, and it is Shane's adopted father who inspires Boi to turn his life around and become a cop. Despite his privileged lifestyle that has given him everything, including an Ivy League education, Shane wants only to be like Boi, and even though they are worlds apart, their closeness spawns a sibling rivalry with tragic consequences.
More than just portraying the violent and dark side of Hawaii, Boi No Good is ultimately about politics and family — the struggles of those who try to do good for Hawaii while working within a system of self-serving government and business interests, and how it's both a blessing and sometimes a burden to be so close to those who love you, the nuances of living with their expectations and the inevitable clashes in their pursuit of independence, passion and hope.
The characters in this book are frustrated with the status quo and struggling with change.
These are things we can relate to. These are the reasons to read Chris McKinney's Boi No Good.