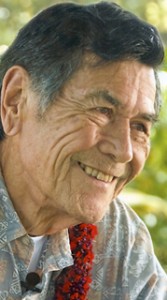 Herb Kawainui Kane, or Uncle Herb to many, died this week on March 9th 2011. An accomplished artist and historian, Kane's passing is a great loss to the Hawaiian community. His paintings and art will forever be treasured and his contributions to preserving the history and culture of the islands are priceless. Known for his masterfully detailed and accurate depictions of ancient canoes, Kane spent a lifetime learning, teaching and sharing.
His knowledge and skill helped him in designing and building the sailing canoe Hokule'a. He served as its first captain in 1975. From 1988 to 1992 he served as a founding trustee of the Native Hawaiian Culture & Arts Program and ten years later he was awarded Bishop Museum's Charles Reed Bishop Medal. In 2002, he received an award for excellence from  The Hawaii Book Publishers Association. In honor of him  I thought we'd do a post about the beautiful book he wrote and illustrated.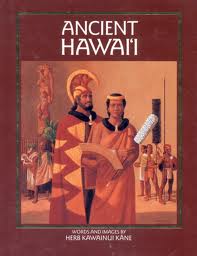 Ancient Hawai'i is an important work of non-fiction focusing on how the Hawaiians navigated, discovered, and began life in Hawaii. It covers all aspects of ancient Hawaiian life in clear detail. From the ruling chiefs, to houses and farming, to games and celebrations. Not only is the book respectfully and accurately written but its illustrations are unforgettable. The images are vivid and complement his writing to create something that is universally appealing and easy to read. This is a fantastic book for keiki and adults alike.
What makes it so special to me is not really something I can explain because it's far from anything technical. It's something beyond his syntax or how the information is organized so that it effortlessly flows like a narrative story instead of a history book. This is the work of someone who loved to share his knowledge, his na'auao. It goes beyond a person recording a collection of sources, more than something well researched–more than facts with complimentary pictures. He knew these things, this history was a part of him. And you really get a sense of his love–for the people, for who they were and who they are now–in this book and his paintings. Knowledge is a gift, and those who share it as willingly as Uncle Herb did should be an inspiration and model for us all.
To learn more about Herb and his work visit his official homepage. You can even leave a comment with your thoughts and memories of Uncle Herb or a kind message for his family and friends.