The fact is, many drinks associated with Hawaiʻi aren't even originally from the Aloha State.  The piña colada, chi-chi, mai tai, zombie, hurricane and rum runner, for instance, carry bloodlines from all over the world!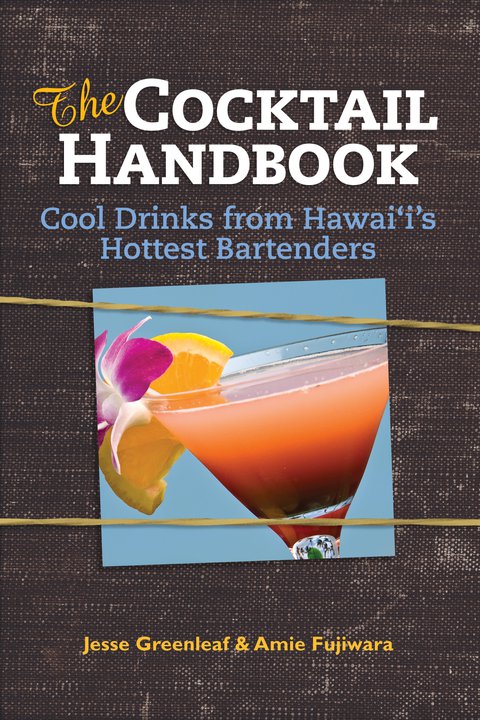 "Rest assured," say authors of The Cocktail Handbook, "this book represents a truly Hawaiian cocktail collection."
Jesse Greenleaf and Amie Fujiwara are two of the top bartenders in the Hawaiian Islands.  Over 40-years of combined experience behind some of Oahu's premier bars honed their craft to the point of expertise.  In The Cocktail Handbook, these two masters of mixed drinks share some of this expertise with recipes from their most inventive and (more importantly) tastiest cocktails they've devised through the years and the fascinating stories behind these delicious creations.
Subtitled Cool Drinks from Hawaii's Hottest Bartenders, the book not only features Greenleaf and Fujiwara's best contributions to Hawaii's drink scene, but serves as a compilation of some of the most imaginative drinks fashioned by the best bartenders in the state.  In fact, Jesse and Amie coin a term in the book for these stellar drink mixers:  star-tenders.  These star-tenders come from a multitude of backgrounds—some are home-grown while others started tending elsewhere—but all comply with the authors' requirements of having ten years bartending experience in Hawaii at a bar with at least a five-year life span.
There are a plethora of drink mixes of various tastes that will intrigue everyone from amateurs to professional bartenders.  Not being much of a bartender myself, or a drinker of cocktails even, there were a few terms used in the recipes which I weren't aware of—bruising, being one of them.  My natural instincts drove me to immediately flip to the back of the book, where thankfully I discovered a section detailing bar tools, glassware and techniques, the last of which taught me that bruising a cocktail is to "shake it super-hard."  Also included in the appendices were bios of the 20+ bartenders included in the book, as well as an index by name of the 80+ drink recipes listed in the book.
Some of the better drink entries included detail a specific story that influenced the creation of the drink, whether it's the beautiful view of a full moon hanging above Diamond Head, or the assignment of creating drinks based on Hawaiian music.  It's always amazing to listen to an expert discuss his or her own inspirations and flashes of genius, especially in fields such as this one that lend itself to such creativity.
Of course, I can't review a Watermark feature book without commenting on the excellent design.  As with many of their productions, The Cocktail Handbook bears the mark of great concept design—high quality photography of drinks are framed with small pieces of masking tape, drink recipes are written on a variety of notepad paper, and bar tips are handwritten on little drink napkins complete with glass ring imprints.  The book itself is printed on glossy color paper and bound in the spiral cookbook style, perfect for folding in half to hold in one hand, or prop up on your counter.
The Cocktail Handbook is a well produced, well researched effort at capturing the local bartending scene at its creative heart—displaying to the world the fruits of labor of our finest mixologists at work.  Thumbing through this tome, my mouth salivated at the beautiful photography and descriptions of taste for each featured drink.  This book makes great reading and reference for the amateur bartender, aspiring mixologist or even just the mixed drink connoisseur who through this book will glean some ideas on what to order when they're cruising the bars in Waikiki.  Either way, The Cocktail Handbook will have you raising a glass exclaiming, "ʻŌkole maluna!"
View the images below for samples from The Cocktail Handbook, courtesy of Watermark Publishing:
Upcoming Book Events!
For those of you who truly want to get the full experience of The Cocktail Handbook, the publisher is hosting a very special book launch party at the bartending home of authors Jesse Greenleaf and Amie Fujiwara.  For the great price of $20, you'll gain entry to the event which includes a copy of The Cocktail Handbook, drinks and pupus.  Duke's Waikiki Bar & Grill.  Tuesday, March 8 from 4:30pm to 6:00pm.
If you can't make it on Tuesday into Waikiki, there will also be two book signings and demonstrations (non-alcoholic) at the two Barnes & Noble franchises here in Honolulu.  The first event will take place on Saturday, March 19 from Noon to 1:00pm at Barnes & Noble, Ala Moana.  The second demonstration and book signing will be the following week on Saturday, March 26 from 1:00pm to 2:00pm at Barnes & Noble, Kahala Mall.
For more news and information on The Cocktail Handbook, become a fan on their Facebook page!
###
The Cocktail Handbook: Cool Drinks from Hawaii's Hottest Bartenders
by Jesse Greenleaf & Amie Fujiwara
Watermark Publishing, 2011
120 pages, soft cover, spiral bound
*Disclaimer – We received a complimentary copy of this book from the publisher in exchange for our honest review.