I tensed to the significance:  someone, presumably in the van, tried to kill me.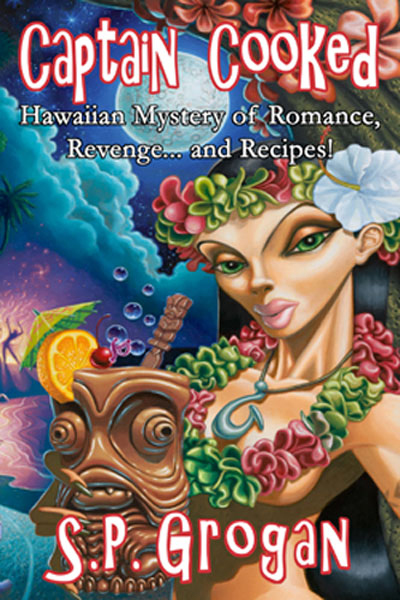 Thoughts such as these are shared to us in the novel Captain Cooked by S.P. Grogan, told from the first-person narrative of one Madison Merlot Dayne, videographer extraordinaire; though really just a B-roll filming, tag-along intern to her famous and successful father, a culinary star of books and television.  Visibly printed in large capital letters on the back of the book is the proclamation: "all she wanted—a quiet beach where she could go topless…" Simplistic, offensive, naive, sexual, adventurous, risque, cheesy; my quick assumptions based on that one simple phrase end up being somewhat prophetic of Madison Merlot Dayne's persona.
Ms. Dayne, a single woman from L.A., tags along with her culinary celebrity father to the Big Island where he will be a guest judge for a Luau Challenge.  There, she bears witness to the poisonous death of world-famous and obese Hawaiian singer, Oli Palalū.  Madison is suddenly whisked into the middle of a murder mystery, taking her behind the curtain of the Big Island's hotel industry, Hawaiian sovereignty movements, culinary world, and even elaborate criminal heists.  Through all of this, and several near-death encounters, Madison finds the mindset to focus her passion on a few choice men she meets—a Hawaiian hotel assistant, a wealthy sea captain, and a mysterious tourist adventurer—hoping to make the most of her vacation.  Aside from the men and suspects, the other notable character in the book, her father Jeffrey Dayne, serves more as a guide to help move the story's logic and direction than an emotional tether.  Playing the Sherlock Holmes to Madison's Watson, Jeffrey is an almost too perfect sleuth (he served as a defense attorney in a past life), able to piece together clues into valid deductions before either Madison or especially the local police department find themselves on the right track.
Speaking of which, Madison's stream of consciousness, a mix of sentence fragments and descriptive verbal wordplay, may come off a bit distracting to some readers.  Flowing in an unsyncopated rhythm between romantic interludes, witty repartee, and rather haole assertions, Madison colors her thoughts with a number of droll remarks reminiscent of David Caruso's sunglass-raising deadpans.  Gems such as "death had come to the buffet," and "we had entered into a world of erotic child abuse" are a few of the more quality selections in a book full of colorful, if often overindulged, observations.
Subtitled as a Hawaiian Mystery of Romance, Revenge… and Recipes!, the book does not disappoint on these counts.  Maybe it's the guy in me talking, but Madison seems almost a little too obsessed with thoughts of kindling romance with the men, despite the often life-threatening situations she finds herself in.  While the book often teases her romantic desires, and she playfully flirts with three possible island flings, the meat of the plot is the murder mystery, with culinary interludes in the form of recipes providing delicious appetizers on the side.  The mystery portions are interesting, though not extremely sophisticated and at times a bit jumbled.  Still, the plot provides a number of possible outcomes and suspects which kept my interest into the climax.  I think people looking for a cheesy, slightly off-the-wall book will enjoy the rumpus mish-mash of mystery, romance and cooking instruction that Captain Cooked provides.  Despite the inclusion of local celebrity chefs, food, and Hawaiian culture, the book's viewpoint is very much from a touristy perspective, which may not appeal as much to locals—Madison is from L.A. and some of her thoughts come across a bit uninformed—but at its heart Captain Cooked is a light-hearted escapade that shouldn't be taken too seriously in this light.
For those of you who love DVD's chock full of special features, you will find Captain Cooked pleasing to your palate.  Not only do most chapters end with real recipes, some gleaned from local chefs, but a treasure hunt is included within the pages of the book.  For people who are into geo caching (see geocaching.com), S.P. Grogan includes subtle hints to discovering a hidden war club located somewhere on the Big Island.  Find it and you will be rewarded with a finder's fee of $5,000 in cash!  Treasure hunters may be familiar with this premise from Grogan's previous book Vegas Die, where a dagger was stashed somewhere in Las Vegas Valley.  For Captain Cooked, Grogan took this gimmick to another level to include the geo caching phenomenon and litters the book with clues and coordinates to aid in your search.
Not all special features are available in the book.  Visit www.CaptainCooked.com to enjoy such online bonuses as a workbook glossary of Hawaiian names, tourist links to the Big Island, more succulent recipes, island photographs, and a how-to-guide for Geo Caching.
Events!
If you've kept up with Hawaii Book Blog's calendar and posts, hopefully you took the occasion to see S.P. Grogan on the Big Island or here on Oahu.  Luckily, if you've missed these chances, there is one final opportunity for you!  You can embark in verbal jousting with the author at an event Sunday, February 27, 1:00 p.m. at Barnes & Noble Kahala Mall (that's today).  Grogan will be available to sign a copy of your book.  My copy, so generously offered by the publisher, warns me to "Beware of boiling cauldrons!", a humorous reference to the story and an example of the playful storytelling rampant throughout its pages.  If you're on the Big Island, S.P. Grogan will be a part of "Wine and Words" at Basically Books in Hilo on Tuesday, February 1 from 6:00 p.m. to 8:00 p.m. Read the book and maybe you can order wine like master sommelier, Jeffrey Dayne.
Captain Cooked: Hawaiian Mystery of Revenge, Romance…and Recipes!
By S.P. Grogan
Addison & Highsmith Publishers, 2010
ISBN: 0980116414
280 pages
*Disclaimer: We received a complimentary copy of this book in exchange for our honest review