It may surprise some, but I've read heaps more science fiction than Alex has.  It may also be surprising that there are more female science fiction authors than you'd think, which is preposterous because why should anyone think about the gender of science fiction authors at all?  Why is sci-fi associated with male readers anyway? Are the concepts of gender and genre changing?  How and why?  All are very good questions. Right now though, I'm going to abort this tangent discussion of 'Literature & Gender' and save it for a rainy day.  So anyway… it's 'Read an e-book week' and when it came to decide who would read the new sci-fi ebook by local author Linda Nagata, I jumped right on it.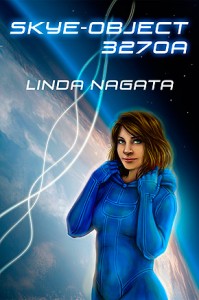 Linda Nagata is a popular science fiction novelist with over five books published and more on the way in 2011.  Her first novel, The Bohr Maker, won the Locus Award for Best First Novel.  She also happens to call the great state of Hawaii home and has appeared at UH Manoa's Celebrate Reading events talking about her books and writing.
This past December she released the ebook version of her first young-adult novel Skye Object 3270A. The printed version is soon to come, but why wait? I practically devoured the ebook on my Kindle and then went trolling around Amazon looking for more.  Although Skye Object takes place in the world of Deception Well, which is featured in Nagata's previous book series, this standalone young adult novel is still an exciting and well developed tale.
In a world where people live to be over 100, wear skin suits for protection, and have robot attendants, Skye Object is a girl with a mysterious past.
Skye had dropped out of nowhere.

No one knew where she had come from. Thirteen years ago an astronomer had seen a gleam on the outer edge of the nebula. …All the records aboard her vessel had been erased. …There was no way to know who put her in the lifeboat, or why. …They had named her after the astronomer's designation for her lifeboat, Sky Object 3270A, adding only an e to her first name.
Skye was adopted by one of the community elders and was raised like all the other "ados" of Deception Well, except for Ord, her robot attendant who is something of a nanny and guardian. When Ord discovers that Skye is host to an ancient and unknown virus, Skye and her friends break all the rules of their controlled community to find a cure, save the planet and discover more about her unknown origins. Why did she fall out of the sky? Are there more like her?
The book starts off a bit slow. The first couple of chapters I kept waiting for the central conflict to make even a hint of an appearance.  Once the book hit its stride though, I really got drawn into the action.  The urgency of Skye's quest to save herself and the planet really makes the rest of the book fast paced.  One of my favorite parts is when Skye and her friends smuggle themselves off the planet to find the vessel (lifeboat) that she was discovered in.  In any world, real or imaginary, four teenagers crammed into a crate has got to equal drama and hijinx.
Skye Object definitely has that "galaxy far far away" feeling to it but this is what Nagata does well—subtle sci-fi without the wordiness that some authors rely on to create a new world for the reader to imagine.  It's tough work to craft an entire universe and be concise.  Even with fantastical elements such as microscopic "makers" that heal your body and keep you alive longer than 100 years, Nagata still touches on themes of humanity, community and family in a very real sense.  But, that's what good sci-fi is supposed to do.
Visit Linda's web page at Mythic Island Press to find out more about her books.
*Disclaimer: We received a complimentary electronic copy of this book from the author in exchange for our honest review.