Arts and Crafts of Micronesia by Barbara Wavell was just one of the fall, non-fiction books to come out in 2010 from Bess Press. It's a good introduction into the history and evolution of the art and material culture in Micronesia. Specifically how artistic expression and handmade products have moved from traditional to contemporary, exploring how political, economical and environmental changes have affected them.
The book is well organized with chapters that focus on sculpture and statuary, tools, as well as woven items and adornments. Through each chapter Wavell does a nice job explaining the traditional techniques and motifs of their crafts while conveying how some of the practices have been discontinued or forgotten. You really get a sense of how recent this emergence, this change or deviance from traditional methods, is. The 20th century, increase in trade and modern conveniences has played a large part in this shift. Wavell illustrates that very well. I particularly like those instances in the book when Wavell would discuss which items were once traditional products, treasures of trade, and then in juxtaposition, how some have become crafts now made only for the tourists. I would be curious to see future books on how the arts and crafts of other Pacific island cultures have changed over time due to similar influences.
The book kind of reads like a museum pamphlet with large clear photos of the items so that you can see the details. With over 130 photos and graphics no doubt this book is a good resource for those interested in art and artifacts of the Pacific. Although incredibly interesting, the experience of reading this book would have been enhanced with some primary sources, personal anecdotes from craftsmen both new and old. In this instance, the formal distance of academia makes the book a little stiff. Packed full of information, it's almost like viewing these items from outside a glass case…like a catalog of stuff.
Check out Bess Press's website for more books on this misunderstood and vastly overlooked culture. They have titles about Micronesian tattoo, language and legends.
The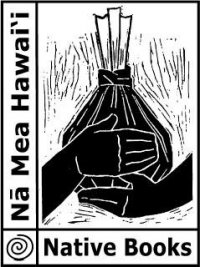 fantastic folks at Native Books Na Mea Hawai'i at Ward Warehouse are hosting a reception and "talk-story" event for author Barbara Wavell, tomorrow February 13th from 3-5p m. It's a great opportunity to hear about how she collected her information, found and photographed almost 130 cultural and artistic items from Micronesia.