[gn_frame align="left"]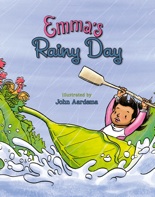 [/gn_frame]
Alex and I are catching up on our keiki reviews and should have some novel reviews for you all coming up soon. I also have a bunch of ebooks to read and tell you all about as well.
Since the weather has been a bit gloomy lately, I decided to send out a keiki book recommendation and review.  Emma's Rainy Day is a short picture book about a little girl named Emma who has a rather big adventure on a rainy day. It was just released this fall from Beachhouse Publishing who are known for their popular board books for early readers. To me, Emma's Rainy Day seems like it started out as a board book and because the illustrator John Aardema was having so much fun with it, they turned it into a picture book. It's very short and moves along quickly. Per usual, Jane Gillespie's use of text color, font and word placement makes reading this book fun and dynamic with all the plops! and splash! es.
It's definitely a "picture book", with very little text; you have to explore the illustrations to move forward in the story and see how Emma's imagination turns a simple splash in the canal next to her house into a rafting adventure complete with a giant octopus… or was it just a banyan tree?  The drawings are colorful and expressive, especially the water, and I love how there's a chicken to be found on almost every page; it reminds me of Kauai.  Overall, this was a fun book to read to youngsters 5 and below, but you really have to use your own imagination and ask questions or point to various things on the page to extend the experience.  It's a great book  about the endless adventures waiting outside your backdoor, all you need is a little of Emma's imagination.
* A copy of Emma's Rainy Day was provided to HBB in exchange for an honest review.