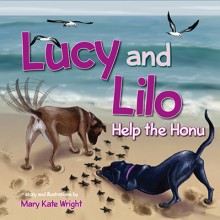 Lucy and Lilo Help the Honu is the first children's book written and illustrated by Mary Kate Wright, published in 2010 from Mutual Publishing.  It's the fun and whimsical tale of two dogs named Lucy and Lilo who enjoy a day at the beach together.  While traipsing around in the sand and water, they discover a nest of eggs which begin to hatch, sprouting baby honu.  The excited dogs then take up the role of protectors and help guide the honu to their inevitable destiny in the ocean.
The story itself is simple and straightforward; like most children's books in Hawaii it focuses on our unique natural surroundings and environment—in this case the migration of baby honu from nest to the sea.  Mary Kate Wright is a talented illustrator with an eye for detail and a very scientific method for capturing the true physical essence of the dogs and turtles.  Despite being only her second kid's picture book, she has a natural ability to tell a story through illustration alone.  At the end of the book is a beautifully drawn double-page layout that explains to young readers about Hawaiian Green Sea Turtles including proper terminology, scientific facts, and their life cycle.
Mary Kate Wright is a certified medical illustrator who has also illustrated a book on childhood leukemia called My Blood Brother, A Story about Childhood Leukemia.  You can find more about Mary on her company's page mkillustrations.com.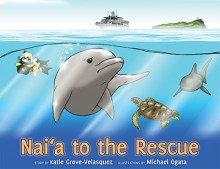 Coinciding with a theme of "helping" is my next book, Nai`a to the Rescue by Katie Grove-Velasquez and illustrated by Michael Ogata.  This is another keiki book published in 2010 by Mutual Publishing and is the second book in the series.  Katie and Michael's first book together, New Friend For Nai`a, was released by Mutual in 2009.  In Nai`a to the Rescue, Nai`a the dolphin encounters her friend, coincidentally a honu named Honu, who becomes entangled in a fishing net wrapped around coral.  Nai`a is desperate to help her friend who is slowly suffocating, and watches as other friendly sea creatures like a shark, crab, and surgeonfish all attempt to free Honu from the deadly grasp of the net.  Through it all, Nai`a, though a bit hysterical, never gives up hope and eventually draws the attention of some humans who end up freeing Honu.
This was a nice tale written by Katie Grove-Velasquez, with an engaging and climactic storyline.  I enjoyed the message that, no matter how terrible a situation is, and how little you feel you can contribute, you should never give up hope because you just might be able to find the solution, whether its by your own means or attracting the help of others.  There is also the basic environmental message about polluting our oceans with man-made creations; but I found it refreshing that the book also highlighted the warm side to humans and how through our actions we can also be the ones to save the ecosystems we are damaging.  Michael Ogata's illustrations are simple but colorful, cute and accessible with a slight nod to manga stylings.  The book closes with multiple illustrations of various ocean-dwelling creatures in our waters, complete with Hawaiian names.
All in all, you can't go wrong with either of these two keiki books from Mutual Publishing.  Both have great messages of helping others, whether its in a protective role or how you handle yourself in an emergency situation.  But most importantly, it taught me that honu apparently need all the help in the world!  🙂  Take care of our honu!
*Disclaimer: We received a complimentary copy of the two books above from the publisher in exchange for our honest review.