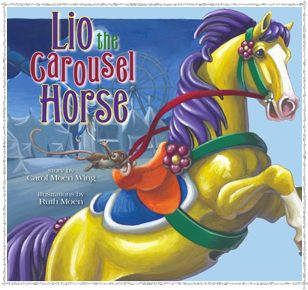 Don't forget to stop by the bookstore during your holiday shopping. You'd be surprised at the gift opportunities you might find. I'm always amazed at the different books and related products that come out at the end of the year. One of the new books released by Beach House Publishing would make an enchanting gift this season for any kid who loves horses. Lio the Carousel Horse by Carol Moen Wing is a story about a curious carousel horse who has an amazing adventure around the island.
Aside from the gorgeous, full color, painted illustrations by local artist Ruth Moen, what I loved most about the book is how you learn about the different types of horses there are in Hawaii and the various roles they play. Lio meets all kinds of new friends from Police horses to Pa'u horses and even Paniolo horses! I can't stress enough, how beautifully the pictures capture each different horse and their environment… especially the Pa'u horses. It was almost like actually seeing them in the parade.
Lots of detail in the pictures and varying typography make the book visually interesting and fun but the repetitiveness in the narration might be tiresome for older readers. I'd say it's perfect for little ones 6-8 years. I had also hoped there would be more about the carousel (they're so mysterious and intriguing to me) but was pleasantly surprised when the book turned out to be more realistic than fantastical. One of the first things you learn when studying children's literature is that fantasy and the imaginary world can, and do, emphasize aspects of real life; and that kids are more than capable of recognizing and understanding many complex themes. Although there are no "complex themes" in this book, it's fairly light reading, I do appreciate that it's both entertaining and educational.
*A copy of the book was provided by the publisher in exchange for an honest review. Hardcover  ISBN-10:  1-933067-37-3