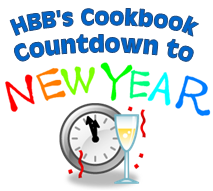 Welcome to week 3 of the HBB Cookbook Countdown to New Year's. This installment is a bit early but I figured everyone would be too busy cooking, eating and parade watching tomorrow. I'll keep this post a short one since there's so much to do before turkey time. This week I decided to pull a cookbook from our shelf to review (I'll continue with the new cookbook releases next Thursday).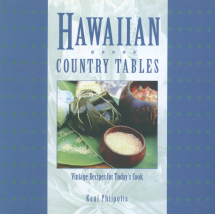 Hawaiian Country Tables, Vintage Recipes for Today's Cook by Kaui Philpotts
Kaui Philpotts used to write "Island Pantry", a food column for the Honolulu Advertiser, and is the author of several recipe books like Party Hawaii. I found out recently during a Mossman family reunion that we are also distantly related… which makes this difficult for me. Although it got good reviews when it was released in 1998, I have to say I seriously disagree with them. So, let it be known that I always give my honest opinions and observations when reviewing a book, even if you're my cousin. Dun, dun, duuuuunnn!
I like the title and idea behind this book but sadly it lacked a little something in its execution. When I read the cover and it said "Vintage Recipes for Today's Cook", I was excited about the prospect of learning old time recipes, how  they're being reinvented with new ingredients or techniques…or even how hopeless cooks like me, who are heavily reliant on modern conveniences, can cook old school local comfort food. In reality, the book is rather anticlimactic.
I did enjoy the short historical write ups and small personal blurbs before each recipe, and the way she included recipes from old iconic restaurants like Buzz's, which her parents operated for some time. Aside from the fact that they're all supposed to be "vintage local" recipes (semantics really) there's no consistent theme or originality in the recipes chosen. It's kind of a hodge-podge of stuff. Also, I wouldn't even consider some of these entries "recipes", more like tasty tips and tricks for the kitchen. There are  the local classics of chicken hekka, laulau, curry and fried noodles with desserts like haupia.  But nothing new really, and sadly it's  not presented in any unique way that would make it stand out from the multitude of local cookbooks on the shelf. Although the pages are glossy and in color, there are very few pictures of food in this book, 98% of the recipes have no picture at all. Not good. Maybe I'm just spoiled at how savvy cookbooks have become in the last 10 years.
Here's one of the "recipes" below. I chose this one because it's perfect for a quick and easy take on Thanksgiving sweet potatoes. It's something my mom has been doing for years and I find it quite tasty. In fact despite my disappointments regarding the cookbook, the thought of sticky sweet potatoes and stuffing has me positively giddy for this coming holiday!
Guava Glazed Sweet Potatoes serves 8

8 medium sweet potatoes, cooked (or a 17-ounce can of sweet potatoes)
1 cup guava jelly
2 tablespoons butter

Cook the sweet potatoes in a large pot of boiling water until done. Cool, peel, and cut them in half or into good serving sizes. Arrange the potatoes in a greased baking dish. Heat the jelly and butter in a saucepan until they make a syrup and heat through. Drizzle the syrup over the potatoes. Bake at 300 degrees F. for 30 minutes, turning every 15 minutes or so to baste and glaze.
What the heck does "cook through" mean? Cook til it's runny, til it turns a specific color… geez at least throw me descriptive phrase if you're not gonna show me any fricken pictures.
Bess Press, 1998 ISBN: 978-1-57306-076-9