Only two-hundred years earlier, the Hawaiians who lived during the reign of Kamehameha the Great held their carved ki'i in highest regard for their cultural significance.  Now, Hawai'i's tiki echo of this time long ago and celebrate the traditions of this time in a new and exciting way.
What images are conjured when you think of tiki culture?  Jazz and Exotica music playing on stereophonic speakers; faux-Polynesian decor including flaming torches, rattan furniture, and wildly designed fabrics; and wooden bars bedecked with bamboo and hosting colorful rum-filled cocktails.  These are just a few examples of this once popular, stylistic theme.  Most of these images harken back to a nostalgic period of post-war reverie and Hawaii tourism's Golden Age.  It's this era that Phillip S. Roberts' new book, Waikiki Tiki: Art, History and Photographs, hopes to not only preserve but revive within our Mecca of tourism, Waikiki.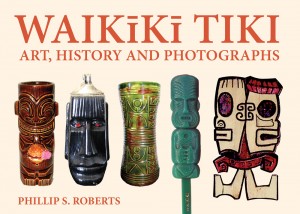 Phillip Roberts, owning up to his haole background, wisely introduces his book with a digest history of pre-Western contact Hawaii; summarizing the significance of tiki's forebears, the ki'i, including descriptions of Hawaii's four major gods: Kāne, Kanaloa, Kū and Lono.  After this sincere tribute to genuine Hawaiian culture (and with a few statements sprinkled throughout), the rest of the book turns towards its primary focus which is the indelible commercial image of the tiki.
Roberts doesn't hide his love of tiki; he is hooked on collecting them—willing to go out of his way to photograph a carving that may have been housed in a tiki bar or hotel, or purchasing a pin-cushion on a whim because it's decorated with little yellow tikis.  He makes it clear to the reader that these objects of his passion have only a distant connection with the true Hawaiian artifacts, stating that while "lacking traditional mana, these tiki possess a different kind of power, one of silent experience from the fabric of a more recent and altogether vibrant Hawaiian history."
And that's what Waikiki Tiki is all about.  It's a nostalgic ride through Hawaii's tourist pop culture beginnings—a nod to when Waikiki transformed itself into this romantic image of the Pacific that enraptured mainland Americans in the mid-20th century.  Roberts' essays are brief, describing important contributors and places to tiki culture's prominent era before bowing out altogether and transforming the book into a photographic scrapbook of sorts, combining related photos together in a vibrant layout with brief but informative captions.  It's a slice of nostalgic Waikiki, before sterile and upscale designer stores sprouted along the width and breadth of Kalakaua Avenue.
The selection of photographs range from silly to sacred, kitschy to cool—an abundant selection of images blanketing over 200 pages of the book.  Photos take us through the lobby of the Waikikian and Hawaiiana Hotels, inside Trader Vic's and the Tahitian Lanai, around the International Marketplace, and amongst collections of tiki mugs, matchbooks and statues spread throughout Waikiki.  If a tiki carving or print exists then odds are Phillip Roberts has sought it out and put it in his book, making Waikiki Tiki a great resource to see the way artists have re-imagined these pop-culture images throughout the years.  If you're feeling adventurous, it may even be possible to go on a tiki scavenger hunt by using the photographs and captions provided in Roberts' book.  (Samples of the book's pages are provided on besspress.com)
I do have a few minor qualms:  I wouldn't have minded learning even a little more about the history of tiki, how it affected the landscape of Waikiki's decor and architecture, or of the people who brought it to life.  Also, through two primary sources directly referenced in the book, I noticed that Japanese development on Oahu in the 1990's was cited as a reason for the death of tiki culture in tourist Hawaii.  No mention of this is made by the author in his own write-ups, but it seems like a fascinating hypothesis that could be expanded upon.  As it is, this book primarily serves as eye candy, a visual reminder of a past era and collection of the existing remnants from this exuberant period.
Whether you're obsessed with tiki culture, find it tacky, or see it as an offensive display of cultural appropriation, you can't deny the love that Phillip S. Roberts put into making this book.  It's a catalogue of Hawaii's recent past, a piece of our modern popular culture we can't deny, nor according to the author, one we shouldn't be afraid to embrace.
Tiki Event!
For all you tiki lovers out there, or for anyone just looking for a good time, the official book launch party for Waikiki Tiki is happening tomorrow, Sunday, November 6.  The event will be held at Duke's in Waikiki from 4:00pm to 6:00pm.  Noted local musician Henry Kapono, who provides the book's forward, will be present to introduce the new book and play music for the guests.  For more information visit besspress.com.
Waikiki Tiki: Art, History and Photographs
By Phillip S. Roberts
Bess Press, 2010
ISBN: 978-157306-3111
264 pages
A copy of this book was provided to us by the publisher in exchange for our honest review.