This past weekend, Alex and I were lucky enough to visit the Waipahu Plantation Village for the launch of a new keiki book Plenty Saimin (Island Paradise Publishing, 2010).  With original and replica buildings from the plantation era,  it was the perfect setting to promote this delightful book about sharing food and aloha.
Saimin was inspired by Japanese ramen, Chinese mein, and Filipino pancit, and developed during Hawaii's plantation era.

After a hard day's work, sugarcane and pineapple laborers returned to their homes to prepare dinner. To save money, each family would bring an ingredient they could spare. They would throw all the ingredients into a pot and share the dish.

~ Feng Feng Hutchins (Author's Note) 'Plenty Saimin'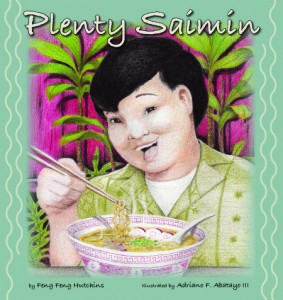 Plenty Saimin is the story of a little boy named Ah Kee whose mother is going to the market for flour to make noodles for his birthday. Eating long noodles on your birthday is what you do to wish for long life (it's something Alex's family and I also practice). On the way to the market Ah Kee invites many friends to join in the celebration and his mother worries that they will not have enough noodles for everyone. But everyone brings a little something to the party, a different ingredient that they could all spare and soon there's more than enough noodles, now made into saimin, to go around.
This book, similar to the old 'stone soup' folktale, is completely heart warming. It is one of the best examples of "local" Hawaii living I have seen in a keiki book. Ah Kee doesn't think twice in inviting his friends and neighbors over to celebrate—the more the merrier. Japanese, Hawaiian, Portuguese and Korean, everyone come eat noodles! In Hawaii there's always more than enough food at a party as people usually bring something even when you tell them NOT to. Indeed, I cannot go to a party empty handed at all, it just feels strange. So you end up with a hodge-podge of all kinds of ono stuff— enough so that people can even take home leftovers.
I loved the honesty of this story, it's very humble. Not only is it inspired by the author's own practice of making long noodles in her family but it's reflective of how we gather and share food here. Especially given that saimin was actually created in this way on plantations in Hawaii. Indeed many of our local favorite foods are combinations of flavors and cultures. The color-pencil illustrations by Nanakuli born artist Adriano Abatayo, are very detailed. He elegantly and respectfully captures island living in his backgrounds, character facial features, clothes and buildings. There is a simplicity about his style that adds a sense of ease to the story. The pictures are bright and engaging, and the food/ingredients look realistic, which is important since it's a story about food! Plenty Saimin is highly recommended for sharing with your keiki and sending to relatives as gifts.
Feng Feng is one of the sweetest authors I've had the privilege to meet, she truly enjoys writing and even has her own blog where she talks about children's books and interviews other authors. She especially likes to discover and share cultural picture books from her home country of Malaysia, and other Asian countries. Check it out here. It's a great resource for anyone interested in finding new children's books to read. We'll be featuring Feng Feng in an author interview later this week so stay tuned for that!
*HBB received a review copy of Plenty Saimin from the publisher, in exchange for an honest review.