Well, we are fast approaching Hour 6 here at Barnes & Noble Kahala.  The First Book Oahu gang are here helping to  promote the cause and we are still here, closing in on accomplishing our "8 books in 8 hours on 8/8" goal.  I have not eaten since breakfast and I'm starting to get a little hungry.  As I perused the Hawaii children's books, a classic little gem from Bess Press called The Musubi Man caught my eye.  I thought to myself, man, a musubi from 7-11 would really hit the spot right now!  So I sat down, with my mouth watering, and read this book written by Sandi Takayama and illustrated by Pat Hall.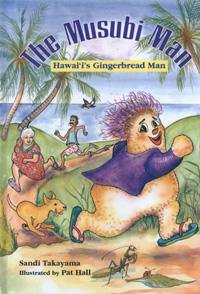 On the plus side (and I'm sure he'd agree), the Musubi Man himself would not make me hungry enough to eat him.  I think I would have a problem biting into such a cute anthropomorphic character, especially one with an umeboshi heart!  But getting back to the book at hand, The Musubi Man is a local retelling of the popular children's tale, The Gingerbread Man.  Takayama puts her own Hawaii twist on the story by including such colorful characters as the poi dog, mynah bird, mongoose and a surfer, as well as numerous local staples like ono food and  beautiful, realistic settings.  Illustrator Pat Hall does a tremendous job translating Takayama's story into a vibrant and colorful world.  You cannot help but smile at all of the small details that Hall includes in each picture; things in the background like taro patches, humpback whales, one mynah bird in one papaya tree, and numerous other flora, fauna and locations we associate with Hawaii.
We may all know the tale of the Gingerbread Man, but The Musubi Man is rich full of the flavors of Hawaii–literally; the Musubi Man is made from limu hair, a nori jacket, two takuan eyes, and ebi nose and a mouth made of red ginger.  And of course, he wouldn't be anything without the ubemoshi heart!  The best part is that the tale does not end here.  The life of the Musubi Man continues in two more books in the series:  The Musubi Man's New Friend and Musubi Baby.