First off, as a disclaimer, Walter Davis sent me a copy of A Reasonable Person in exchange for my honest review.  While it sat in my never-ending queue of books, he sent me this review from a person by the name of Ray Iwamoto.  I still wanted to read it and provide my own feedback, and so waited until finishing before posting.  You can find my thoughts immediately after the end of this review.
Book Review by Ray Iwamoto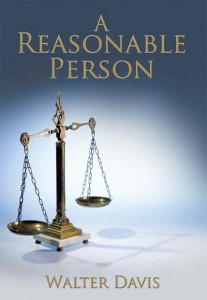 A novel by Walter Davis, Esq., long time Honolulu insurance defense lawyer. This well known trial lawyer who founded the firm, Davis Playdon Reid and Richards has written a fictional account of an insurance defense trial lawyer practicing in Hawaii in the 70's and 80's. His many trial experiences provide a fertile source for the novel. Local plaintiff's lawyers, insurance adjusters, defense counsel, partners, associates wives, lovers, and judges are featured, described, vilified and praised. Hawaii lawyers will be entertained while gaining insight into the dynamics of race, politics, selections of judges, court room strategy, settlement strategy, personalities, temperament, skills, acumen, and failings of our local bar, judges, and people who populate the world of injured plaintiffs, and the insurance industry. Naturally, names are fictional or, as they say, have been changed to protect the innocent (but members of the Hawaii plaintiffs and defense bar may recognize the actual people who are being described). Worthy plaintiffs and shady plaintiffs, including one egg shell plaintiff (you take your plaintiffs as you find them) naturally play a significant role and for the worthy plaintiffs whose real injuries evoke the defense counsel's sympathy also produces twinges of guilt as the lawyer contemplates his life's devotion to saving a small amount of dollars for mega bucks insurance companies.
Differences in how lawyers approach their cases are revealed through the two main partners of the law firm. Walter describes himself, correction, describes the lead character, Mark Dorsey's court room style as straightforward, reserved, almost professorial, a more scholarly approach and he inclines to want jurors to feel they are being instructed not entertained. On the other hand, his partner Frank is flamboyant, dramatic, with a natural flair for entertaining. The relationship between these two partners and their law partnership as intertwined with their personal lives, including mistresses and wives provides entertainment and educational value as these elements interact with the stresses of their legal practice. These two defense attorneys provide insight and education as they discuss how they would have handled various cases had they been plaintiff's counsel. The dynamics of settlement negotiations, including settlement conferences before the judges, are described in detail and makes one wonder if in those "old days" we did not have the equivalent of Hawaii Rules of Professional Conduct, 3.3 Candor Toward the Tribunal.
The story describes, in detail, the interrelationships between the partners and the associates in the law firm and the division of labor and how Mark Dorsey parcels out assignments. Besides writing of how valuable associates can be, there is an episode of an associate who failed to prep a case and this is discovered on the eve of trial. As many law firms have experienced, the associate's wife had an acute case of "rock itis' and the associate was under stress on the home front.
Besides the court room and deposition rooms, the story takes you to Mark Dorsey's favorite noodle house, Waialae Country Club, Oahu Country Club, and the Outrigger Canoe Club. By the way, the noodle house was Yong Sing. This was a time when jury verdicts were becoming increasingly high. Mark Dorsey describes it this way. Hawaiian jurors have been paying off like slot machines resulting in some of the highest verdicts in the country. This review neglects describing the fascinating cases that Mark Dorsey handles as they uphold the adage that the truth is often stranger than or more entertaining than fiction.  A Reasonable Person is available from Amazon in hard copy and Kindle. Here is a quote from a review on Amazon.com: "A Reasonable Person reveals the world of insurance litigation in which justice may prevail if it is not prevented by mendacity, prevarication or incompetence."
###
My Thoughts…
I'll try not to repeat too much of what Mr. Iwamoto has mentioned above and give you my informal thoughts:
When I started A Reasonable Person I was completely fascinated by the intricate details and strategies used by main character Mark Dorsey in his insurance litigation practice.  I don't read a lot of legal fiction, but you can tell author Walter Davis not only knows what he's talking about but has most likely lived through many similar cases. What I DID learn most from reading this book is that "legal fiction" does not always equal "legal thriller". I kept waiting for the other shoe to drop, or for there to finally be one case that challenged our main character so much that it would make him question himself and everything he knows. Instead Dorsey wins case after case in a rhythm of monotony that makes your heart break almost as much as reading through Mr. Iwamoto's summary above.
The story is told in a first person account by Dorsey and reads much like the protagonist's courtroom style:  very straightforward; not especially charming or dazzling; short, succinct sentences; always moving the narrative along instead of dwelling on details.  Most of the book takes place in Hawai'i from 1979 – 1981.  Although very subtle, there are a number of cues that Davis employs indicating firsthand knowledge of Hawaii from that time period including describing the rustic charms and sauna-like atmosphere of the old Honolulu courthouse.
I liken the book to a television documentary/reality show following the life of an insurance claims defense attorney. It's a realists view of law, very procedural without wild drama. You really end up learning a lot about how the process works from depositions and records mining to proper jury selection and trial arguments.  Ultimately, the daily rigor of case after case not only takes a toll on the main character but also took a toll on myself.  There were times where I wondered where the plot was heading.  The cases themselves are usually one and done, there being no true professional tests against the main character.  Most of the conflict revolves around Dorsey's personal life including dealing with his career choices, a long-term affair, and the emotional roller coaster of his office partner and best friend.
Overall, while it was very interesting from a technical standpoint, I thought it lacked a bit in the storytelling department.  There really isn't much of an overall plot and at some point the constant stream of cases can get monotonous.  There is a rather big surprise at the end, but even that seemed to be handled rather dryly.  I would recommend this book for anyone with the slightest interest in law and legal proceedings.  The professional detail of each case and how Dorsey masterfully manipulates the system to get a defense verdict every time is rather informative and satisfying in its own right.  It's worth a look for its technical merits, just don't expect to be too invested in the character and story.
Event
This Monday, September 20, Walter Davis will be a guest on Thinking Out Loud, the Japanese Cultural Center's radio program on KZOO-AM 1200. A Reasonable Man was chosen as a JCC Book Club book and Davis will be on hand to talk about it.  The program starts at 6:30pm so be sure to tune your radio to the AM Dial after work.  Hear him speak out on the book and make your own mind up!
A Reasonable Person
By Walter Davis
AuthorHouse, 2010
211 pages