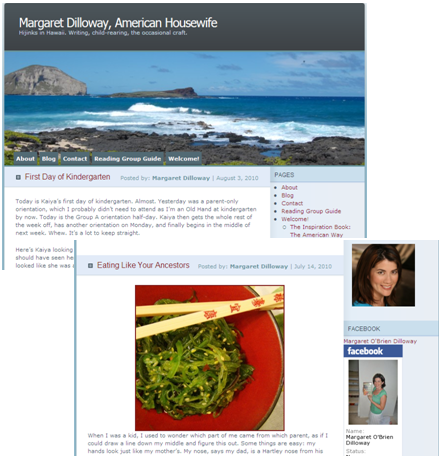 I am addicted to author blogs. All the big-wigs in publishing say that it's not enough to simply author a novel anymore (as if that isn't hard enough) but that writers have to market themselves and their books by creating a platform accessible to readers. You can tell a lot about an author from their blog…like Margaret Dilloway's. Margaret is the author of 'How to Be an American Housewife' (which we review here) and her blog reflects her author personality very well… she is fun loving, charming, dedicated to her family and loves to write!
In preparation for her book launch this THURSDAY, AUGUST 5th at 7pm in Barnes & Noble Ala Moana, she was gracious enough to write a guest post on the challenges of writing in Hawaii. We both agreed that while inspirational, sometimes it's hard to write in paradise when the weather is so perfect for playing.
Guest Post– Margaret Dilloway
Ahhh, Hawaii. White sand beaches shaded by swaying pine forests. Cool soft breezes. Warm water.
Perfect ingredients for a vacation.
Not so perfect for a writer.
Who wants to sit alone inside with a computer when you live in gosh-darn Hawaii? When you're a kid, your parents tell you to go out and play if the weather's nice. Here the weather's nice all the time. So I'm sitting in my little room, trying to write, obsessing about what I'm missing out on.
It's the worst on the weekends, when my whole family is around and no one wants to stay inside. My husband takes the kids out and each time I have to work, I'm pained at being left behind. Who wouldn't rather be looking at pretty fish in Hanauma Bay?
It would be worse, I think, if I lived within water's view. If I could actually see the water, I would be more apt to abandon my lifeless computer screen for a hammock or a dip in the clear aqua water. Besides, the sand would get into my laptop if I worked at the beach.
Of course, I'd be a fool to say I wouldn't live by the water if I could. But it's too expensive, so instead, I count my blessings. I live in a tiny little place behind Koko Head crater. All I can see out of my window are the backs of the houses across the alley, and a brown hillside that nearly went up in flames during the 4th of July. Three times an hour, the Number One bus hurtles up our narrow street, spurting exhaust fumes into the windows. I've got the windows closed and the A/C unit on. This place is better for writing, I tell myself. I can make it into a cave. I can try to forget I'm in Hawaii.
Yet even inside, the sun is still bright. The wind still rustles the leaves. It's reminding me of where I am. Even back in this valley, I know the water's only five minutes away. I know if I drive just beyond the local Costco, I will be confronted with dazzling blueness. I'll see the windsurfers and paddle-boarders and tourists getting toted on tubes behind boats and wish I could be a tourist, still, having fun.
I shut the curtains and live alone with my writing. In my little room, I try again to forget that I live in Hawaii. It's difficult. I make bargains with myself. Ten pages, I think, and I can go out for a swim. Ten pages and we can go get a shave ice at Koko Nuts. Finish this section and we will go up to Kailua for the day, I promise myself. And I keep working.
Thanks Margaret!  We look forward to reading more of your writing/adventures via your blog www.margaretdilloway.com!
Margaret also did an author interview, which you can find here, for those that missed it.