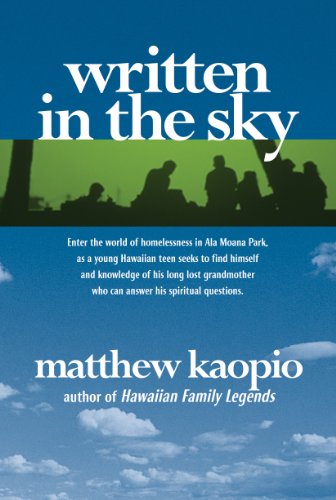 I picked up this little gem by author Matthew Kaopio at the Annual Friends of the Library of Hawaii book sale at McKinley High School this year for only $1.  It looked like a quick and simple read, so I thought in between my "assignment reading" I could polish off some recreational Hawaiiana.  Much to my delight, Written in the Sky turned out to be a rather interesting and touching book.
Summary
After the passing of his grandmother, a teenage Hawaiian boy is left to fend for himself in the wilds of Ala Moana Beach Park among the swath of tourists, joggers and fellow homeless.  Even though his situation is dire he tries to keep an optimistic attitude, buoyed by dreams of his grandmother and the many unique personalities he comes across.  Through these fateful encounters, the boy engages on a path to answer questions about his family's past and his own spiritual identity.
Review
What first drew me to this book was the story of a homeless person in Hawai'i.  Homelessness is a pretty notable issue here and unfortunately for both the homeless and our tourist image, they are a visual marker as to the misfortune of many here in paradise.  Ala Moana Beach Park is littered with homeless people and as depicted in Written in the Sky, they are often ignored or avoided by many.  This book, however, puts a very human face on this shunned segment of society.
The majority of the book takes place in the park, with the boy (whose name is 'Ikauikalani, but he hasn't heard it in so long even the narrator refers to him as "the boy") interacting with various people, the majority of whom are in a similar situation as himself.  Matthew Kaopio does a great job creating so many fascinating characters in the park—all are homeless for different reasons and deal with the situation in their own unique way.  He writes the life of a homeless person with a real day-to-day nuance that is neither romantic nor gratuitously gritty.
There is also a strong sense of spirituality in this book and the boy's dreams play a large role in shaping his journey.  Most of his dreams feature his grandmother and past encounters with her, delving deep into a very strong sense of Hawaiian spirituality.  Kaopio is able to seemlessly meld ancient Hawaiian traditions with a Christian message in the story.  Often at odds with each other theoretically, both provide a lift that drives the positive forces in the book.
This is mostly a feel-good, inspirational novel without being overtly saccharine.  Some may find the boy's fateful fortunes somewhat convenient, but it's consistent with the path he travels; he takes only what he needs and gives and shares much in return.  I see Written in the Sky as a YA read, due in part to its short length (152 pages), teenage protagonist, and uplifting message—but I recommend it for all ages.  The author himself is an inspiration on his own, just read this snippet of his life from the back of the book:
Matthew Kaopio began his career as a mouth-brush artist and writer while going through rehabilitation after a 1994 diving accident that left him quadriplegic.  His first book, Hawaiian Family Legends, married the ancient Hawaiian tradition of oral storytelling with the modern art form of painting.

Written in the Sky is based on his experiences while spending time in Ala Moana Park during his early days of rehabilitation.
As an added note, Matthew is still writing books and painting.  Hawaiian Family Album, his third book was published in 2008.
Written in the Sky
By Matthew Kaopio
Mutual Publishing, 2005
152 pages