It's undeniable that Hawai'i is a special place and our temperate climate is part of what makes it so. When I was in high school I would lament the absence of "seasons" and was only too happy to move away to college and experience them. But it was while I was away that I remembered how subtly you could feel the changes in our island's weather and that even though there were no obvious markers for these changes, we still had "seasons" nonetheless. We are not "seasonless" or "season impaired". This summer has been interesting in terms of temperature and rainfall so I thought I'd review a keiki book written specifically about these unique island seasons.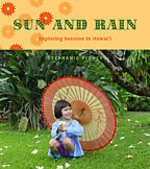 Sun and Rain- Exploring Seasons in Hawai'i by Stephanie Feeney (UH Press, 2007)  is a great book for teaching kids to appreciate the distinct seasons of our tropical environment. There're beautiful color photographs on each page—children doing things outside, eating shave ice, playing at the beach, illustrating the different plants, animals and activities that can be seen and done during each season. The text is bold and fitting for each picture, the language is educational and fun.
"When the dry season arrives, the fruit ripens and you can eat delicious mangoes!" (next to a boy picking the most ono looking mango)
I wish this book was around when I was little so I could have learned earlier the little nuances that make up the wet season and the dry season… and all the activities that we do on the island during each one. From kayaking and surfing to bon dances and New Year's celebrations, this book is truly a reflection of our local culture and subtle seasons. The photos are engaging for little ones and it just makes you want to get outside and get involved, play, frolic and take advantage of our "temperate" climate. I highly recommend Sun and Rain as a fun non-fiction book for you and your keiki ages 4-9.