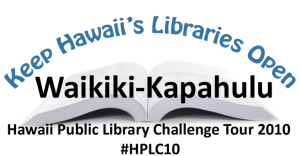 In honor of National Library Week we are finally bringing back the Hawaii Public Library Tour that we began in 2009.  I will be kicking things off by talking about a quaint little library on the edge of Waikiki.  Location-wise, it's an interesting place—on the corner of Kapahulu and Ala Wai Boulevard stands the Waikiki-Kapahulu Public Library, adjacent to the Library for the Blind & Physically Handicapped.  Driving down Kapahulu, you might miss it if you don't merge right immediately after the Ala Wai Golf Course.  It's easy to overlook since the big "Waikiki-Kapahulu Library" sign is found on the Ala Wai Boulevard side of the property. Nestled between restaurants, the zoo and Waikiki Beach, this library is a "divine" get-away from the hustle and bustle of the area.
When we arrived at the library, it was pouring rain—and I mean POURING rain, so much so that the puddles in the parking lot were pooling together to create one big pool.  Misty and I sat in the car for a few minutes (although we DID have an appointment), hoping to wait out the onslaught, but to no avail.  We bounded in as quickly as we could, finding shelter under the stone columned walkway.  This path leads immediately into a little open-air lobby which houses an assortment of flyers and pamphlets, free reading materials, some of their book sale items, and the bathrooms, along with a few benches where you can rest your 'okole.
Upon entering the library proper, we immediately noticed the vaulted ceiling.  We quickly found an empty table so that we could prepare our notes and get a general idea of the place before speaking with a librarian.  Not long after we sat down, however, a woman came up to us and exclaimed, "You must be from the Hawaii Book Blog!"  I have to admit, we were a bit surprised at her spotting us so easily—are we that obvious?  It turns out that this very astute observer was children's librarian and acting branch manager, Cheryl Robinson.
The Building
"Truly a blessing…"
After we recovered from our shock at being "made", Cheryl eagerly started to tell us about the building.  The Waikiki-Kapahulu Public Library is one of the oldest library structures, built in 1952.  The building is constructed with real Waianae sand stones—something that rings of luxury when you learn what it cost to ship them in 1952, the now seemingly short distance, from Waianae to Waikiki.  However the trouble was well worth it, the construction materials only add to the distinct atmosphere that this library exudes. It's the only library built with Waianae sand stone and it's gorgeous.
It's a unique structure—from the outside you see a slanted roof, wooden beams, brick and stone.  Talking to Cheryl confirmed our initial thoughts on the place:  having the huge windows on either side creates a cathedral-like space—truly a fitting altar for any bibliophile. While reverent, Cheryl admits this "doesn't really lend itself to storytime as the sounds really carry in this place.  Anything above a whisper can be heard across the building!"
The other obvious design theme is that of a beach house…Waikiki-Kapahulu Library: The Beach House Cathedral.  There are a lot of tables with dark blue tops and the way the wood is paneled and painted, with its light blue beams, contributes to the overall effect.  Through the large windows you can see a vision of Diamond Head off in the distance on one end, with tall coconut palms swaying in the wind on the other.  It really is quite pretty inside.
One of the most exciting things about the library, Cheryl mentioned, is their recently constructed addition which she says is "truly a blessing."  The addition is a concrete enclosure around a formerly unused lanai that adds another room entirely to the library.  The best part about it is that they were able to construct the addition in harmony with the rest of the building ensuring that the new room matched the look of the rest of the library.  Kenneth Holfman, an Oregonian who made numerous trips to Hawaii and was a frequent visitor to Waikiki-Kapahulu Library, donated a large sum of money to the State Library system and this branch in particular when he passed away in 1998.  Money from this selfless benefactor contributed greatly to the construction of the room.  At the time of our visit, the addition was primarily used as a meeting/seating area that also housed their DVD collection and a newspaper and magazine section.
Collection & Programs
"Waikiki is really the 'Gateway to Hawaii'"
"Often people don't realize how much effort it takes to keep a building organized.  It requires creativity to find great solutions."  For example, Cheryl proudly showed us that the signs they have in the library are actually made out of old book covers, yet have the glossy sheen of a professional job. Even the grand mobiles that they've hung were created by a staff member.
They typically host children's storytime in 6 week sessions because it isn't cost effective to have a program year-round.  Their most popular event, however, is sponsored in conjunction with the Hawaiian Steel Guitar Association on May Day. Cheryl urges that if you go to any program you should see this one.  "The music is so beautiful." Especially given the accoustics of the building we can only imagine that it sounds exceptional.
One area that Cheryl was eager to show us was the Young Adult section.  Because they have such limited space and Waikiki typically has less teenage patrons, the YA section is a bit small.  However, Cheryl proudly talks about the excellent job the YA Librarian has done with the area.  And it does look nice—it's laid out very much like a bookstore with books on display stands and a unique look that makes it stand out from the kids and adult sections.  Cheryl mentions that the YA nonfiction is awesome since the librarian goes out of her way to find unique titles that would grab the attention of teens.  "She finds things people haven't heard of. Things they don't even know they're interested in until they see it here."
"Waikiki is really the 'Gateway to Hawaii'," explains Cheryl.  "People who are moving to Hawaii, often start in Waikiki.  People who just moved to Hawaii yesterday are able to come into the library and have access to the entire State's resources.  There are also people who come every winter to borrow books and use the library's resources with seasonal passes."  And for some people, this may be their first library in America!
Because of the wide demographic of people coming here and the limited space, Cheryl and the staff ensure that the needs of the community are always met.  Even with the small building, they keep to the idea that the library should have a lot of free, open space.  "We have a beautiful space, we don't want to cram it.  It's so nice here and there's plenty of room!"  This means that their collection must always remain relevant; you won't find any 1990's reference books here.  What you will find are lots of books on travel, and a well circulated collection of audio CDs as a lot of people who borrow from Waikiki-Kapahulu are commuters and enjoy listening to audio books while fighting traffic.  For their numerous senior patrons they also offer a nice selection of large-print books and try to manage a health section with magazines and other relevant info.  Another popular feature is their DVD collection—they have over 3,000 DVDs which is remarkable for a library of this size. 
Challenges & Solutions
"Everyone should have access to the library."
As the acting branch manager, Cheryl has to wear two hats as she also works as the children's librarian.  Similar to every library, there is not enough budget to support staff shortages, and Cheryl says unfortunately they just "have to make do.  There just is no money to hire substitutes or replacements." 
Also, given their limited space, one of the more popular features in any library, free use of the computer,  is limited.  They only have three internet terminals, and unfortunately, not enough bandwidth.  However, the last time we spoke Cheryl mentioned they would be adding more computers.  Hopefully their request has been granted!
How can you help?  Well, as Cheryl states, "Donations are always welcome.  They help us in lean times when there are people who are so generous."  In addition, the Friends of the Library always helps in getting money and books for the library. 
Cheryl believes ultimately that "everyone should have access to the library."  This is reflected at Waikiki-Kapahulu through their wide demographics and the way Cheryl and the staff use their limited resources to cater to their patrons.  They have 'info centers' with relevant books and pamphlets on civic and community info because Cheryl sees this library as "an extension of the Visitor's Bureau."  They are always eager to help people and answer questions.  They are meticulous with what the neighboring schools might need for their students.  Most of all, they listen to what people are asking for.  If something is requested by a number of people, they make a note of it, and then create book lists with call numbers to make it easier for everyone to find the books they want, or they re-organize the shelves so that collections of books or series can be perused in once place.  It's the details like these that help make Waikiki-Kapahulu Library such a special place.
One last thing that we noticed once the rain clouds disappeared, more and more people came in to the library.  Cheryl mentioned that many of their patrons walk or ride bicycles to the library to read the paper, use the internet or borrow DVDs.  It's evidence that this is truly a place of convenience for both residents and visitors in the area.
Book Recommendation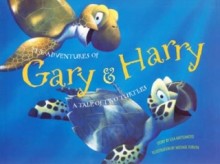 For her library book recommendation, Cheryl excitedly recommended The Adventures of Gary & Harry, written by Lisa Matsumoto and illustrated by Michael Furuya.  This book is one of the most frequently used during their storytime readings.  It also happens to be one of Cheryl's favorite books.  Starring two different kinds of turtles, it's a book with a great message, reminding parents and kids alike that we need to take care of the environment.  She especially likes that even kids all the way down to three years old understand the message.  Of course, it doesn't hurt that the "illustrations are so cute."  It's also a great selection for Waikiki-Kapahulu Library due to their proximity to both the beach and the aquarium—a great tie-in to reading this book, Cheryl advises, is to grab a plastic bag and pick up any trash you might see along the beach.  I look forward to reviewing this book in the coming weeks; the cover is already promising with its beautifully shaded cartoon turtles!
Mahalo to Cheryl Robinson and the Waikiki-Kapahulu Public Library staff for letting us into their beautiful library and providing us with such great information.  Don't forget to come back tomorrow as we'll be featuring another library on our library tour.