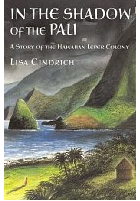 One of the books I picked up at this year's Friends of the Library of Hawaii booksale was In the Shadow of the Pali: A Story of the Hawaiian Leper Colony by Lisa Cindrich. The synopsis on the back of the book drew me in the way a shiny object mesmerizes a kitten; not only was this a story about the leper colony but it centered around a young pre-adolescent girl taken there against her will after being diagnosed with Hanson's disease. It dawned on me that there are precious few fictional novels about Kalaupapa and being ever the curious reader, I bought the book immediately. Whatever you know about the history of Kalaupapa or the living and social conditions of the colony will not prepare you for the haunting descriptions in this book.
The wall must be the pali, she thought. The cliff rose behind Kalaupapa peninsula, separating it from the rest of Molokai island. The sea effectively formed the other three sides of a prison.

A prison for lepers. The officials at Kalihi Hospital and Detention Station near Honolulu didn't call Kalaupapa a prison. They called it a "colony" or a "settlement" or a "lazaretto". But Liliha knew better. When someone forced you into a place and wouldn't let you leave, that place was a cage.
The characters are painfully flawed and bitter, but as they struggle to survive in the lawless colony they discover faith, build a community, and come to terms with the disease that keeps them outcast. It does take a bit of patience through the first few chapters as you struggle to identify with the main character but this is ultimately a story about growing up, told from the point of view of a young girl in the worst of circumstances. It is also a story of hope as she finds unexpected love, happiness and acceptance from her make-shift family at Kalaupapa.
The fictional story of Liliha seemed so familiar to me, I felt I must have read something similar as a biography or collection of stories from the actual survivors of Kalaupapa. Just to provide a nonfiction comparison I picked up No Footprints in the Sand-A Memoir of Kalaupapa by Henry Kalalahilimoku Nalaielua.
Where Shadow of the Pali was deeply sad and moving, this memoir from Henry Nalaielua is simply inspiring. In Shadow of the Pali we get an idea of the loneliness of being taken to Kalaupapa, but No Footprints in the Sand effectively illustrates just how much Hanson's disease separated families, ruined lives, and impacted early Hawaiian society. We follow Henry from small kid time, living as a normal kolohe boy watching them take away his sister and later to his own diagnosis and exile, through his life and struggles in Kalaupapa. His story is inspiring because all the horrible situations imagined in the fictional tale of Liliha actually existed for him, and despite them he found love and built a family. Through adversity he created a robust life of happiness for himself, a home where one seemed impossible. It was amazing that he still lived there and passionately called it home. We are lucky to have him share his life story in this book so that future generations never forget the people of Kalaupapa.
Both books are a good read in these trying times of bad news, and more bad news.  Their message is clear with themes of perseverance, hope and family. Check out this article about books on Father Damien!