Well we're wrapping up our Rec-Fest and First Book-Oahu will be here until 4:00 pm… but remember, you can say "First Book" at any Barnes & Noble Hawaii ANYTIME this weekend to help them raise money to buy new books for children in the community.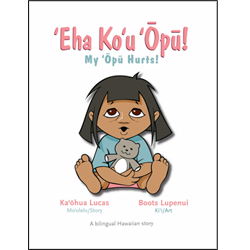 The last book review is one of my own picks. It's one of the most adorable keiki books I've seen on the shelves lately. Eha Ko'u Opu: My Opu Hurts (Kamehameha Publishing, 2009) by Ka'ohua Lucas is a story about a little girl who has a sore tummy.  It's part of their bilingual Hawaiian keiki board book series, and has strong, thick pages for little keiki hands to grab (Alex says the thickness kind of makes him want to chew on it). The text is easy and straight forward even with the phrases in Hawaiian. It's a good way to teach your keiki some basic Hawaiian words and is a great example of how Hawaiian can be used everyday!
The book is illustrated by Boots Lupenui and the little girl in the story has the funniest expressions! The pictures are drawn in a comic/cartoon style but it's very cute. Mellanie, one of the First Book-Oahu Advisory Board Members says "I just like saying the word opu! and a'ole!" So this book is fun for adults too since Mellanie and Alex are enjoying it so much.
What I really love about the book is that it's teaching kids early on, to perpetuate the Hawaiian language–to learn the words and stories and use them everyday. It's an incredible example of the cultural influence and importance of books. I'm excited about future language projects and titles from Kamehameha Publishing, and will hopefully review more books in this series soon.