I am coming to you live from Barnes & Noble Kahala where we are proud sponsors of the First Book-Oahu Book Fair here today.  The Book Fair will be ongoing throughout the day and tomorrow—basically it is a fundraising event where they will raise money in order to buy books for impoverished children.  The way that you can help is by going to any Barnes & Noble in Hawai'i and with any purchase (including items at the coffee shop) tell the cashier you want part of your proceeds to go to "First Book."  It's only two words and by doing so you will be helping to make a difference in improving the literacy of our children in Hawaii.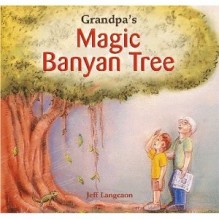 For my first Rec-Fest review I took a look at Grandpa's Magic Banyan Tree (Mutual Publishing, 2005) by author and cartoonist Jeff Langcaon.  This is a story about a grandfather and his grandson spending the day together as told from the narration of the grandfather.  It's a fond recollection of time past and the wonderful power of childhood imagination as the grandfather reminisces to his grandson about playing in the neighborhood banyan tree in the park by his house.  After hearing about the wondrous inventions associated with the tree, the grandson asks his grandpa to take him there and the two bond together under the shade of the banyan tree.
This was a fun and simple story that touches upon a few important facets such as engaging in the grandparent-grandchild relationship and how important fostering creativity and imagination is to a child.  When the grandpa revisits his tree from childhood, he is disappointed to find that it is nothing more than a simple tree, much smaller and less fantastic than he remembered.  A lot of times this is the case when we enter adulthood, but by following the instincts of his grandson, the grandfather is able to recapture the magic associated with his tree and develop an intimate connection with his young kin.
Jeff Langcaon is known for being a colorful cartoonist/graphic artist and this comes through in some of the illustrations in Grandpa's Magic Banyan Tree.  He does a good job of stylistically blending together the colors with a soft touch—the coloring is very sketch-like which fits in with the narrative and reminiscing of the grandfather's point of view.  He also excels when it comes to the fantastical—I love the dragons he depicts in the illustrations.  If you're interested in his work you can visit his website at www.dancingpencil.com.
Overall a fine book for children to engage, not only to help them realize their own creative strengths—a simple banyan tree transforms into so many different settings—but also to instill a sense of respect and awe for grandparents and the things that they can show and teach to them.
Grandpa's Magic Banyan Tree
By Jeff Langcaon
Mutual Publishing, 2005
32 pages
Recommended Ages: 4-8