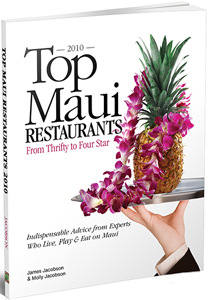 We recently reviewed mythology surrounding the legend of Maui (see "Book Review- How Maui Slowed the Sun").  Let's stay with the Valley Isle and focus on its culinary delights and local cuisine.  One of the most enjoyable aspects of visiting a new place is trying out the local dining scene.  When we are in an area that we rarely travel to such as Hawaii Kai or Kailua, Misty and I will make an effort to eat somewhere unique to that locale.
Keeping that in mind, the Maui traveler—whether kama'aina or tourist—should consider checking out the new book Top Maui Restaurants 2010 (Maui Media) by James and Molly Jacobson.  James and Molly have spent the last five years together eating their way across the breadth of Maui.  Immediately from the start, the one thing that they hammer into your conscience is that Top Maui Restaurants 2010 is not just another dining guide, it's a dining review.  Written by this duo, these "food-obsessed home chefs" make the case that they have grown up around family chefs, studied the art of cooking intently and traveled all over the world eating in the best restaurants, providing them with the culinary resume that gives this book an air of professional legitimacy.
The alphabetical reviews include detailed anecdotes of their dining experiences, supplemented with a five-star rating system that spans five categories:  Food, Ambiance, Service, Value and Love—the latter reflecting the immeasurable feeling of genuine care put into food preparation.  Each review also includes a handy icon guide that alerts you to a restaurant's relative cost as well as its amenities such as providing vegetarian options, being on the water or having a children's menu, to name a few.
The best part of the book are the sections after the reviews.  "Top Maui Tips" provides you with a crash course on the ins and outs of Maui, including how to eat local, where to spend special nights, food related activities, different local fish and local culinary definitions and even non-food related advice such as where to see shows and movies, the value of certain scenic spots, and how bad traffic can be.
After this (and the long-winded, yet informative "Sponsors" section) they provide a great breakdown of the restaurants reviewed.  I find it a bit more useful to use their "Ten Meals on Maui" list to help me decide the best places to go.  They also do a great job of splitting up the entire list of restaurants again into three sections: by Food Craving ("man, I like Hawaiian food"), by Location ("I'm in Hana, what can I eat?") and by Budget ("I need to stretch this $10 into something good").
What sets this book apart from other food guides and reviews is the enthusiasm and detail these food lovers put into their review guide.  Reading Top Maui Restaurants 2010 gives me the feeling that I'm hanging out with Maui folk who know exactly where to go if I want to find some grinds or take a lady out to a nice dinner.  The next time I end up on Maui, I will rest assured that I'll know where to eat with this book.
Don't forget to visit their blog:  http://www.MauiRestaurantsBlog.com, where they keep their readers up to date on their latest food adventures, share recipes and alert everyone to changes in Maui's volatile restaurant scene.
Disclaimer:  I received a free PDF copy of Top Maui Restaurants 2010 provided by Maui Media for review purposes.  Maui Media or any related affiliates had no input in the content of this review.