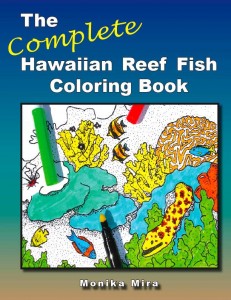 Artist and author Monika Mira recently sent us a copy of the latest edition of The Complete Hawaiian Reef Fish Coloring Book (Lucid Publishing) now printed on recycled paper! As a long time diver and artist, Mira put a lot of love and knowledge into making this book and it really shows. What a fun way to encourage people to take care of our oceans and reefs while simultaneously teaching about native ecology and the wondrous species of fish that populate our waters. Each illustration includes a full description of the fish, its coloration, feeding and mating habits, Hawaiian names and so much more.
Filled with fun facts and detailed pictures just waiting to be colored, this would be a great companion to any reef walk. An excellent resource for educators, parents, and ocean enthusiasts alike; children and adults will enjoy exploring the reef through Mira's wonderful coloring book. Plus, this eco-friendly version is recommended by the Save Our Seas organization. You can check out the book's webpage to learn more and print out coloring page samples!
I brought the book to work with me so I could peruse it throughout the day and everyone who came to my desk picked it up and said "hey, this is cool." I barely had a chance to look at it since it was being passed around so much.  After lunch I decided to read it in depth and as I saw some of my favorites like the Porcupine Fish I could only grumble at myself for neglecting to bring along some colored pencils. Though, I am sure if I had, my co-workers would be busily coloring instead of working.