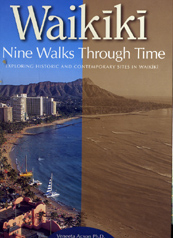 In celebration of the holidays, Hawaii Book Blog would like to extend our gratitude to all of our wonderful readers and give away a couple of books in December to a few lucky people.  The winner of our first holiday giveaway will receive a brand new copy of the fabulous book Waikīkī:  Nine Walks Through Time by Veneeta Acson, Ph.D.  This is a really lovely and uniquely structured guidebook covering the sites and history of what is now the tourist haven known as Waikiki.  It's very well thought out and would be useful not only for tourists visiting Hawai'i but also for locals as there are a lot of educational references about the area.  Whether you're from Hawaii or not it's well worth considering taking a look at this book as it provides a fun and interesting way to explore the historical sites of Waikīkī.  We did a review of this book a while back which can be read here.  Now on to the giveaway.

First, please read our giveaway guidelines.
For this book giveaway we will be going to the social medium phenomenon known as Twitter.  All you have to do is have a Twitter account, follow us at @hawaiibookblog (if you don't already) and retweet (RT) the message we broadcast concerning the book giveaway.  Everyone who RT's the message is automatically entered as long as they are also following us at @hawaiibookblog.  We will create a list on Twitter with all of the entrants, so after you RT, make sure and check to see if you are on it (it's on our Twitter page under "Lists").  The last time to RT will be December 13, 2009 at 11:59pm.  After that we will randomly select a winner from the entrants and announce on our blog who won the contest.  Easy!  And you get an awesome book for free!
This giveaway is open to all of our readers in the United States.  Hopefully we will expand to our international readers in the future, but for now we are keeping it within the country.  If you have any questions about this giveaway, please leave a comment below or e-mail me at aalba@hawaiibookblog[dot]com.  Mahalo and Happy Holidays!