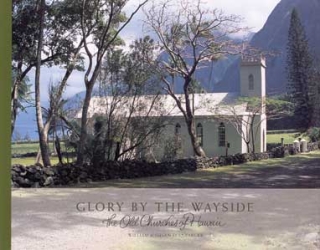 I love history and enjoy architecture.  Often the two are intermingled with each other when it comes to a building's location, style, and how it fits in with the community's needs at the time.  Maybe no other building personifies such unique history, culture, and architecture than that of religious structures—which in our predominantly Western culture is represented by churches.  Feeling the need to quench a craving for some  history and architecture, I picked up Glory by the Wayside: The Old Churches of Hawaii by William & Susan Ecenbarger.
The authors make it a point early on to note that this is not a comprehensive list, but a starting point of notable churches in Hawai'i that you can begin with before setting off on your own personal explorations of the many more unique structures spread out across the state.  While the focus is on the churches and the good they provide, they also make sure to mention that the Christian church has done much to disenfranchise Native Hawaiian lives and culture.  "It is the churches, not the Church, that we honor here."
Each church (with a few exceptions) is arranged within an aesthetically pleasing two-page spread.  One full page is dedicated to a defining photograph of the church—primarily a full-length side or front-angle to give you a sense of the building's style and situation.  Opposite this page provides the information on the church:  Name, location, and a brief four-or-so paragraph history of the church; its community role and notable geographic or architectural landmarks.  Very simple, easy to read, and pleasing to the eyes.
The usual suspects are here:  Kawaiha'o Church in Honolulu, St. Benedict's "The Painted Church" in Honaunau on the Big Island, St. Philomena in Kalaupapa; in addition to thirty-four other old churches spread out among six of the islands.  One thing I liked about their selection is that most of the choices came from islands outside of O'ahu, who had only two.  This provides incentive for not only tourists but the majority of the population in Hawai'i (located on O'ahu if you weren't sure) to explore something different when they go Maui or Moloka'i or the Big Island.
To be sure, this book isn't the be-all reference for the history of churches—or even one church—in Hawai'i, nor is it trying to be.  Instead it's like taking a tour with a friendly local, proudly showing you off-beat sights (like churches) and explaining to you the history in a brief but informational conversation.  Glory by the Wayside makes a pretty coffee table book and quick reference to these classic churches, especially if you enjoy history and architecture like myself.
About the Author
William Ecenbarger is a former reporter and editor for the Philadelphia Inquirer. He received a Pulitzer Prize for General News Reporting in 1980 and as a freelance writer had his worked published in numerous magazines and newspapers.  He has authored two historical books:  Walkin' the Line: A Journey from Past to Present Along the Mason-Dixon in 2000 and Glory by the Wayside: The Old Churches of Hawaii, co-authored with his wife Susan.1
Glory by the Wayside: The Old Churches of Hawaii
By William and Susan Ecenbarger
Booklines Hawaii, 2008
88 pages