posted by D. Sueoka

Some things in this world are better flat: mouse pads, for example, senbei, or the foundation of a skyscraper. Other things, not so much. Like tires, soda, and 'opihi shells.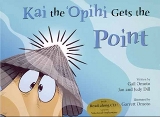 In Kai the 'Opihi Gets the Point, written by Gail Omoto and Jan and Judy Dill, with illustrations by Garrett Omoto, Kai must confront and overcome his depressing flatness. Lisa Elson-Young of the Waimānalo Public and School Library recommended this book to us because of its positive message and great illustrations. We can't agree more!
The book was produced by the Partners in Development Foundation's Tūtū and Me program, a mobile preschool program that prepares children in targeted communities to enter school. It also includes a read-along CD with excellent narration by Nina Keali'iwahamana.
The story follows Kai, a young 'opihi who is dismayed by the flatness of his shell. He asks some of his friends for help, but their suggestions tire him out, and his shell remains flat as ever. He finally turns to his tūtū, whose suggestion, though initially scary, just might work.
Though an 'opihi is essentially a foot in a shell, illustrator Garrett Omoto conveys a wide range of emotions through Kai's eyes and posture. He also captures the velocity and force of the ocean—so much so that we feel as frightened as Kai does when the waves crest above him.
The book covers a lot of thematic ground. In addition to promoting good health, it encourages perseverance and stresses the value of intergenerational wisdom. Although the rhyme and meter sound slightly forced on the page, the lines really resonate when read aloud. (Be sure to read the background note at the end of the book. Kai is based on a true story!)
Kai the 'Opihi Gets the Point is a smart and solid book that teaches Hawai'i's kids to be as tenacious as the 'opihi!
Kai the 'Opihi Gets the Point
Written by Gail Omoto and Jan and Judy Dill
Illustrated by Garrett Omoto
Partners in Development Foundation, 2006