During our visit to Kahuku Public Library, neighborhood author Alice Anne Parker was hosting a seminar about understanding your dreams. It was an informal affair–just sitting around talking story about the mystery and wonder of dreaming. As part of her Hawaiiana recommendation, Branch Manager Fran Corcoran suggested we read and review Alice Anne's fictional novel, The Last of the Dream People (HJ Kramer, 1997).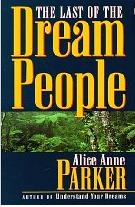 World War II Air Force Captain "Kilty" Stewart's plane "Paper Doll" is shot down and he is the only survivor. Rescued and nursed back to health by a jungle tribe called the S'norra or "people of the dream world", he embarks on a spiritual journey to find love and acceptance within the tribe. The tribe as a community believes in prophetic, gift-giving dreams. Through them he learns the power of his own dreams and the importance they play in life. He begins to have adult-oriented dreams about a woman in the tribe who is already married and eventually, due to the significance they place in their dreams, she becomes his wife and we learn that she has had mutual dreams about him.
Narrated in the first person, the voice of our main character starts off very abrupt and the first few chapters move along in a staccato like fashion– it's difficult to get through. Then somewhere in the middle of the book the narrative switches to a diary entry format, and then back and forth again almost at random. This is one of many frustrating aspects of the book's syntax.
I wanted to like this book, I really did. Dubbed as a sensual adventure, it was sadly, neither of those two.  I think the concept is interesting, using fiction to encourage and empower people to explore their dreams. The story premise had potential but that's as far as it went, weak without the support of crucial subplots, continuous conflict or motivations, and properly developed characters. The character and plot points were so poorly executed that what could have been suspenseful and moving ended up flat and disappointing with no reader investment in the characters or what happens to them.
This could be a good book to take to the beach or to kill some time with at the airport (but taking a backup magazine would be a good idea as well). On the positive side, the way Parker describes the jungle and forests of Malaysia you can tell she lives in a tropical place and has a lot of real life experience to pull from. Is this an entertaining book? Yes, for some it could be. But it's certainly not life changing and definitely not a book that you HAVE to read as part of Hawaii's literary landscape. However, diversity is what makes local culture unique and having a work of  "metaphysical fiction" in our book pool certainly gives us variety.